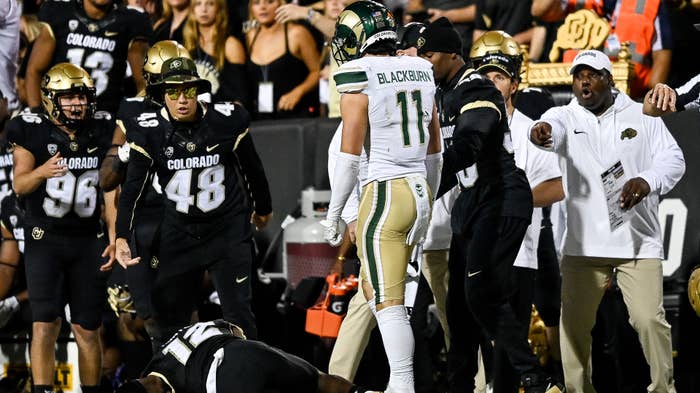 UPDATED 9/19, 1:48 p.m. ET: During a press conference today, Deion Sanders made a statement about Henry Blackburn and said he was a good player who should be forgiven.
"Henry Blackburn is a good player who played a phenomenal game... This is a still young man trying to make it in life ... He does not deserve a death threat over a game," Coach Prime said.
"I forgive him. Our team forgives him. Travis Hunter has forgiven him. Let's move on. That kid does not deserve that," he added.
See original story below.
Colorado State defensive back Henry Blackburn has been receiving death threats over a cheap shot on University of Colorado's Travis Hunter that landed him in the hospital.
According to ESPN college football senior writer Pete Thamel, Colorado State athletic director Joe Parker said the school's police department is working with local authorities to investigate the threats made toward Blackburn and his family. His cell phone number and campus address, along with his mother's personal information, were shared online by the time the game ended.
"We're very concerned about our player's safety, as Henry and his family have continued to receive these threats," Parker told ESPN. "Henry never intended to put anyone in harm's way on the football field. It's not what we teach or coach. We hope that the irrational vitriol directed at Henry stops immediately."
Skip Bayless reported on Monday that Hunter sustained a lacerated liver as a result of Blackburn's illegal hit. The Buffaloes wide receiver and cornerback could be out for up to a month.
Parker claimed Blackburn "never intended to put anyone in harm's way on the football field," but it appears the Colorado State senior drove his shoulder into the chest of a defenseless Hunter well after the ball hit the ground. ESPN analyst and former NFL safety Louis Riddick was quick to call it a "very dumb play" by Blackburn.
"It's sad that that's the state of the world we live in. It's a football game. Let's not make it more than that," Colorado State head coach Jay Norvell said of the threats over Blackburn hospitalizing Hunter. "We don't want anybody to get hurt. We don't coach that kind of football."
Norvell unsurprisingly defended Blackburn's hit, calling it a "bang-bang play." However, you would be hard-pressed to find a neutral party who sees it the same way.
Colorado scored 11 unanswered points in the fourth quarter and tied it up with 36 seconds remaining. The No. 18-ranked Buffaloes defeated the Rams 43-35 in double overtime to improve to a 3-0 record.