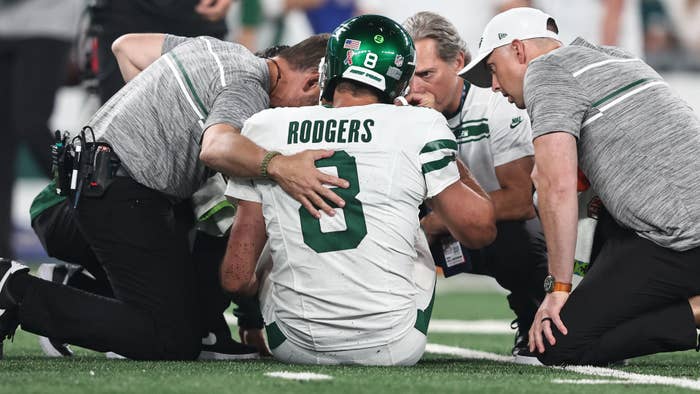 New York Jets star quarterback Aaron Rodgers delivered his first statement since suffering a season-ending Achilles injury after just four plays Monday night.
"I'm completely heartbroken and moving through all of the emotions, but deeply touched and humbled by the support and love," Rodgers wrote in an Instagram post after thanking everyone who reached out to him since sustaining the injury.
Rodgers, who turns 40 in December, seemingly addressed speculation that he played his final snap in the NFL by declaring, "The night is darkest before the dawn. And I shall rise yet again."
NFL Players Association executive director Lloyd Howell released a statement Wednesday calling for every team to install natural grass in the wake of Rodgers' injury.
"Moving all stadium fields to high quality natural grass surfaces is the easiest decision the NFL can make," Howell said. "The players overwhelmingly prefer it and the data is clear that grass is simply safer than artificial turf."
David Bakhtiari, a former teammate of Rodgers, publicly blamed the injury on the artificial turf in MetLife Stadium.
"Congrats @nfl," Bakhtiari wrote on Twitter. "How many more players have to get hurt on ARTIFICIAL TURF??! You care more about soccer players than us. You plan to remove all artificial turf for the World Cup coming up. So clearly it's feasible. I'm sick of this..Do better!"
According to The Athletic, the playing surface in MetLife Stadium was changed from slit-film to FieldTurf Core prior to the start of the 2023-24 NFL season. FieldTurf Core is better designed to release cleats, which addresses a main concern from players who referred to the old surface as "grabby."
MetLife Stadium has come under fire in the past. Raheem Mostert implored the NFL to "shut that field down" in a 2020 tweet claiming "the turf is horrible."
Mostert sustained a sprained MCL in a game at MetLife Stadium earlier in the season. In that same game, fellow San Francisco 49ers teammates Nick Bosa and Solomon Thomas suffered ACL injuries, while quarterback Jimmy Garoppolo injured his ankle.
"So I think if the NFL cared about our safety at all, then we'd all play on grass like top soccer teams do. So that's kinda BS to me," Bosa told Sports Illustrated last year.
With the United States set to host the 2026 FIFA World Cup along with Canada and Mexico, NFL stadiums such as AT&T Stadium and Sofi Stadium plan on changing their playing surfaces to mixed grass. Howell and Bakhtiari are among many within the league who have called out team owners over their willingness to change for a chance to host World Cup games, instead of listening to their players.
When asked about player concerns over artificial turf on ESPN's First Take, NFL commissioner Roger Goodell said the league will base its decision on science and "go on what's the best from an injury standpoint."