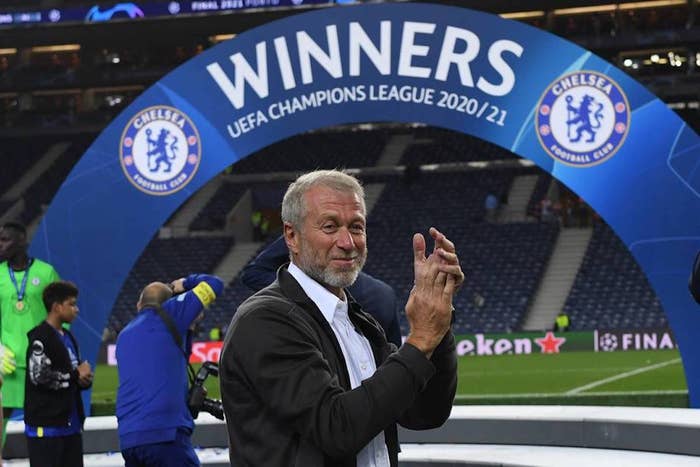 Chelsea FC owner Roman Abramovich made the ominous, somewhat mysterious announcement on Saturday that he would be handing "stewardship and care" of the club over to its foundation trustees in light of Russia's invasion of Ukraine.
Speculation quickly spread like wildfire and rumours persisted that Ambramovich would in fact be selling the club. In an interview with Swiss newspaper Blick on Wednesday, billionaire Hansjorg Wyss said that he had been offered the chance to buy the club.
Then, during their 3-2 victory against Luton at Kenilworth Road, the news was officially confirmed that Abramovich would be selling the club. In response, the 1,570 Chelsea fans began chanting Abramovich's name, although that was quickly drowned out by the much larger portion of Luton fans who chanted "You're getting sold in the morning."
Speaking on the effect the news had on the players, who found out just moments before kick off, manager Thomas Tuchel commented: "Maybe I heard it a little earlier than you but still close to kick-off. We heard the rumours throughout the day, saw on TV. When we have team meetings and eat together, everybody talks about it. It is big news. Let's wait and see for the best and see what the day brings.
"We are not living on an island. The players have the internet. Some are more concerned. To play a match on the same day, where focus is absolutely key, is not so easy and makes it a bigger performance. We try to stay focused and cancel the noise. It's not easy but we did it."
Ambramovich originally bought the club from from Ken Bates for £140m in 2003. Over the years he has reportedly loaned the club more than £1.5bn. The reported asking price currently sits at £3bn, although he says is not asking "for any loans to be repaid" and that proceeds of the sale would be donated to war victims.
While under his ownership, Chelsea have won five Premier League titles, two Champions Leagues, five FA Cups, three League Cups, and two Europa Leagues.
In a statement published on Chelsea FC's website and shared via their official Twitter, Abramovich writes:
I would like to address the speculation in media over the past few days in relation to my ownership of Chelsea FC. As I have stated before, I have always taken decisions with the Club's best interest at heart. In the current situation, I have therefore taken the decision to sell the Club, as I believe this is in the best interest of the Club, the fans, the employees, as well as the Club's sponsors and partners.