Deshaun Watson Is Being Traded to the Cleveland Browns
After it was revealed that he would not be facing charges for his sexual misconduct case, Deshaun Watson is being traded to the Cleveland Browns.
Getty
Image via Getty/Christian Petersen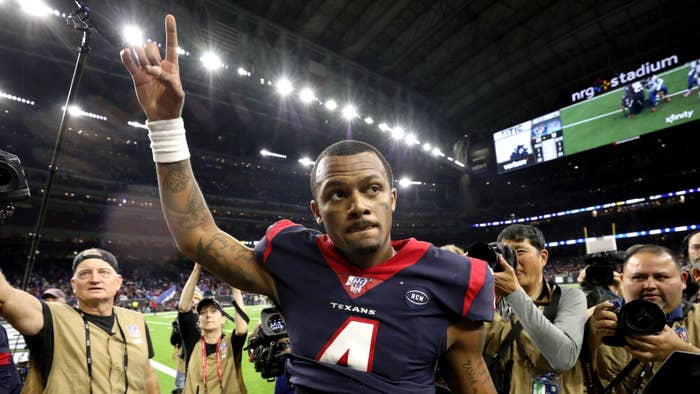 After requesting a trade from the Houston Texans in January 2021 and being involved with a sexual misconduct case, quarterback Deshaun Watson is being traded to Cleveland Browns.
Watson, who will reportedly be receiving a guaranteed five-year, $230 million contract, took to Instagram to announce the news by sharing a photo of himself in a Browns jersey. "Cleveland, LETSSSS GOOOO!! 😤 #DawgPound Ready To Work!" Watson wrote in the post's caption. 
Every dollar of Deshaun Watson's new five-year, $230 million deal is guaranteed, per sources, setting a new record for the highest guarantee given to an NFL player.

@Browns

and Watson's agent

@DavidMulugheta

combine to make history.
News of the trade broke on Friday after several teams, including the Falcons, Saints, and Panthers engaged in trade talks with the QB.
It's worth noting that teams only began pursuing Watson after he was cleared of criminal sexual misconduct charges. He was accused of sexual assault and harassment by 22 women, many of whom are massage therapists. The women alleged that Watson would make inappropriate comments, expose himself, and forced a woman into oral sex throughout 2020. 
"After a Harris County grand jury was presented all the evidence and had the opportunity to hear from all witnesses, grand jurors declined to indict Deshaun Watson. Grand jury proceedings are secret by law, so no information related to their inquiry may be disclosed," the Harris County District Attorney's Office said via a statement, according to NBC Sports.
Watson's attorney, Rusty Hardin, wrote in a statement that his team was pleased with the grand jury's decision after the ruling was announced last Friday.
"We are delighted that the grand jury has looked at the matter thoroughly and reached the same conclusion we did. Deshaun Watson did not commit any crimes and is not guilty of any offenses," Hardin said.
In other related news, NFL Network's Ian Rapoport reports that the Browns are now looking to trade Baker Mayfield.