 "Typical Allen Iverson," my friend says with a sigh as he shakes his head over a plate of chicken wings. I shrug. We're in a dimly-lit dive bar in Philadelphia and A.I. has just canceled on our scheduled interview.
While my friend—who worked with Iverson on a marketing campaign for a Philly-based retailer two years ago—helps me drown my sorrows over the wasted day with pints of beer and baskets of chicken, he recalls his personal experiences dealing with The Answer. Some of his anecdotes are outright unbelievable. Others aren't surprising at all.
I'd never met Iverson before. Like most casual basketball fans, all I knew about him was what I grew up seeing on television: The ankle-breaking crossover that made the G.O.A.T. momentarily look like a goat. The Reebok commercial where he rapped with Jadakiss over a Trackmasters beat. And, of course, the diatribe about practice. (Iverson later explained that his rant was sparked by the death of his close friend and the fact that he was embroiled in trade talks at the time.)
But opposite those highlight memories are also the tales that my friend and other writers who've dealt with Iverson have to tell. It kind of comes with the territory for a rapper to possibly show up four hours late, semi-drunk, with an unexpectedly large entourage. An elite pro athlete whose livelihood mostly depends on being physically disciplined and showing up on time to, well, practice? Not as common. 
Iverson's reputation precedes him. To me, Iverson didn't just bring hip-hop to the NBA, he embodied the cross section of the lifestyle we grew up seeing in late '90s music videos and sports. Iverson was as much of an ambassador for hip-hop as Shirt Kings, except his spray can and air brush was a durag, arms inked with tattoos, and a hair-trigger shooter's mentality both on the court and with the press.
"That dude battled every night and he had that flair and that creativity," reigning NBA MVP Steph Curry told me during NBA All-Star Weekend, as he raised his right arm to mimic Allen Iverson's signature crossover. "I loved watching him play. He was a competitor and fighter."
Players who shared the court with Iverson in his prime tend to view him differently than how he's historically been portrayed in the media.
"It was hard for me to play against this guy," said Shaquille O'Neal, whose Lakers went head-to-head against Iverson's Sixers in the 2001 NBA Finals. "Usually, I needed to make something up about a person in my mind to play against them. But, I couldn't do that with [Iverson] because I liked him too much."
I finally catch up with the elusive Answer in Charlotte, N.C.—where he now resides—during a scheduled photo shoot for Finish Line. The event is for the relaunch of his first signature sneaker—the Reebok Question. The brand, which Iverson has a lifetime endorsement deal with, is dropping 20 different versions of the shoe this year to mark the Question's 20th anniversary.
The call-time for today's shoot is scheduled for 2:00 PM and Iverson walks through the doors at 2:04 PM, catching the camera crew, who expected delays, totally off guard. Iverson makes a beeline for his mark on set and skips out on the Bojangles chicken and Coronas that the company prepared for him and his crew. On this day, The Answer is all about business.
In between takes he peruses through all of the sneakers when one in particular catches his eye—​a yellow and blue colorway that is a totem to his rebellious ways in the early '00s. The quick and dirty version of the story is that Iverson was meant to wear the yellow sneaker in his first All-Star game, but refused because he was getting roasted in the locker room by fellow All-Stars for having to take the the court in such a brightly-colored shoe (This was the year 2000 when players actually matched the colors of their sneakers to their uniform). Despite pleas at the time from his manager at Reebok, who hyped up the sneaker with retailers across the country and even enlisted Iverson's own mom to plead Reebok's case for him to wear the shoe, the player was not about to put his pride on the line. 
"I probably cost Reebok a lot of money that day," Iverson says with a laugh as he picks up the yellow sneaker. "I was not having it." 
Such is the gift and the curse of Allen Iverson. Adored by millions for living life like an open book while nevertheless struggling to balance the volatility of that life.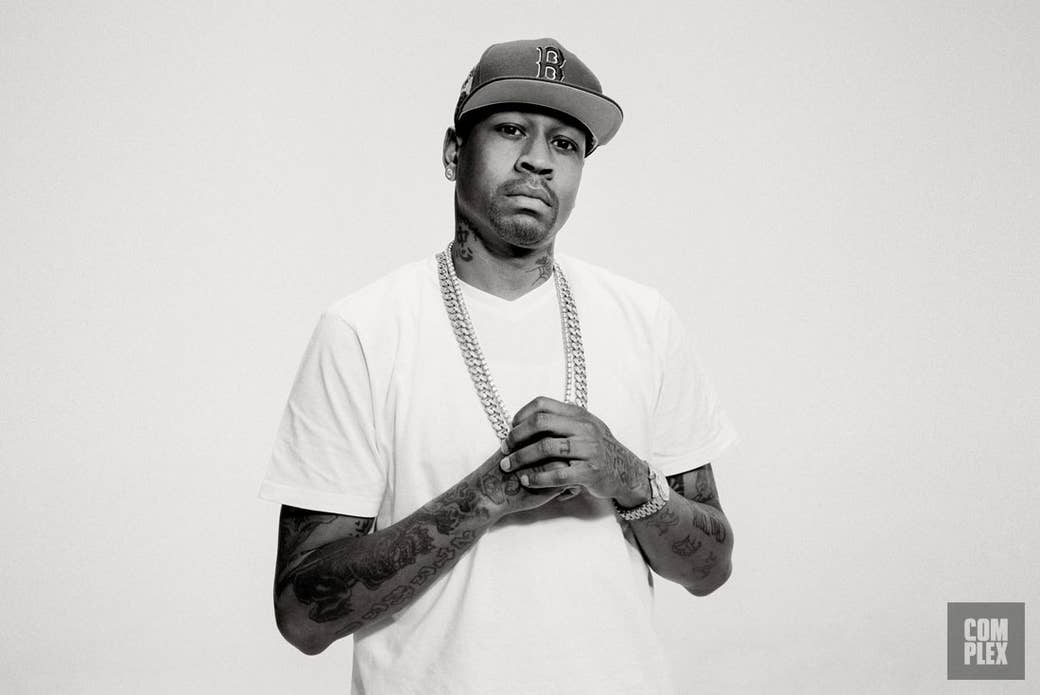 I was doing some research and read this legendary story that involved you, Ma$e, and $10K.
What you saying? What supposedly happened?

You guys put a bet on a one-on-one game up to 20. You spotted Ma$e 19 points and the ball five times straight. He somehow cheated for that one point and you refused to pay up. 
That was my partner, so I'm pretty sure that did happen.

Have a lot of rappers over your career tried to come at you on the basketball court?
Not one-on-one. Me and Nelly played H.O.R.S.E. He's a friend of mine. I remember one night we went to Jermaine Dupri's studio and I had been drinking before I got there. We went into the gym and he beat my ass. Then he went on 106 and Park and bragged about it. So the next time we played, I made sure that I came prepared. I hadn't drunk anything and beat his ass. And during that game he was saying, "You need to get him a couple drinks." I told him, "Nah. Not today. You ain't going to brag on this one."

Have you ever played ball with Post Malone?
I never got an opportunity to meet him. I want to meet him. He did an awesome job. I was just telling my friend on the way over here that when we get in the car, we hear ["White Iverson"] at least like 10 times a day. It definitely gets a lot of record play around here. And it's just an honor for him to make a song with my name in it. 

Also heard you got a thing for TGI Friday's?
Absolutely.

What is it about that place?
Just that it's not too uppity. It's not bougie. It's a down to Earth restaurant. I like doing things like that. Unless I'm like taking my girl out. I'll take her to the real expensive, you know, exotic restaurants. Other than that, when I'm hanging with my friends, we just like to go to a spot where we can chill out. And we like the food there, so it's always been love at Friday's.

"I just felt the NBA was just picking on me. … The NBA can't dress no grown man."
How did you first find that place?
It was in Philly and I stayed right down the street from it. It was somewhere I could grab me something to eat after practice and go home. After games I used to go there and get me something to eat and go about my business. That was my stomping grounds in Philadelphia.

I heard the locals called it Club Fridays whenever you were there.
Yeah. I'll always be attached to it because I remember a lot of the people in Philadelphia were real when they were greeting me at Friday's. They always made sure I was comfortable. By me going there, it ended up being the No. 4 Friday's in the country. So, I did a lot for them too.

They probably owe you a check.
[Laughs.] Nah. I'm good.

What was your go-to meal at Friday's?
Philly cheese wrap.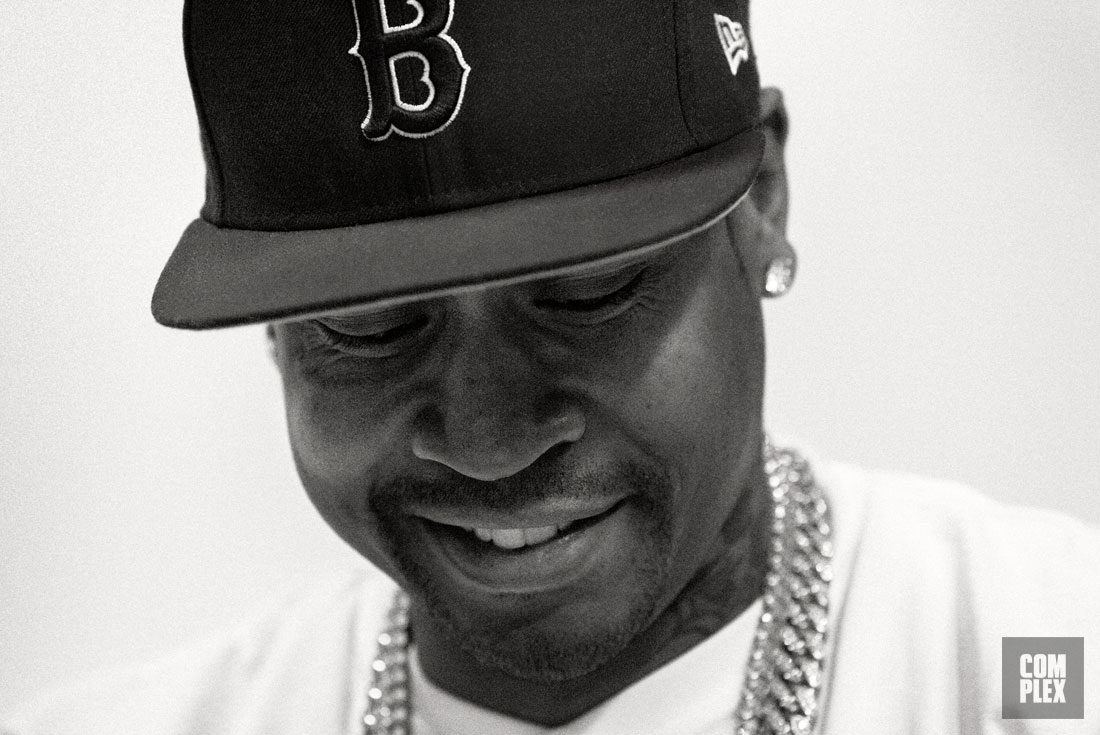 Okay. Let's talk about basketball. How often do you watch NBA games now?
All the time.

What player now reminds you the most of yourself?
[Long pause] Westbrook.

Why him?
Just his relentlessness, his heart, his energy, and the way he plays hard every night. That's what he reminds me of. I wouldn't say his game per se, but the way he's always in attack mode and his effort remind me of myself.

Speaking of Westbrook, he's also made a name for himself with what he wears off the court. Your name is always linked to the changing of the NBA dress code. Do you think it should be changed again?
I don't have an opinion because it doesn't affect me. But, the way that I feel about the dress code is, if they had a problem with what I was wearing, I don't know how they don't have a problem with what these guys are wearing. Good gracious. I ain't ever see nothing like it. I'm sitting at home like they used to bother me about what I was wearing and these guys come in here…. [Shakes head.] You know what I'm saying?

Definitely.
It's funny to me. But, I just felt the NBA was just picking on me. That's all. Other guys in the league at the time dressed like me. Guys is supposed to be able to be original and dress like how they want to dress. The NBA can't dress no grown man.
So you're for no dress code change at all?
I have no problem with none of the things that players wear today. I wouldn't wear it. I don't have any problems with what these guys wear because they got their own style and their own originality. That's the way it's supposed to be, man. Everybody is their own person. I don't have a problem with what these guys doing and I think it would be sad and unfair if they were to try to change the dress code again.

What's your take on these jerseys with the sleeves on them?
I like them. I like the style. I would wear them. With me, I never liked my sleeves loose. That's why when I was in college, I used to cut my sleeves off. If they were snug, then I'm cool with it.

Twenty years ago, you went number one in the draft, which is arguably one of the best of all time...
It is the best. No question about it. Ask anybody that knows about basketball and anybody that has a basketball mind and there's no question. There's too many Hall of Famers all throughout it.
You could've probably made it in the NFL too. Have you ever thought of what would've happened if you went that way instead?
I have no idea. I would imagine it would've been the same result as far as basketball. I felt like I was better at football than I am in basketball. So that's what I would've worked hard to be—great in football.
Kobe, who was drafted with you, is finishing up his last year. What advice would you give a player like him who's walking away from the game?
Someone like him doesn't need too much advice. He's going to be just good and if not better in whatever else he decides to do after basketball. So, there's no advice to give someone with ambition like that. My whole thing is with Kobe, he gives a lot of time to the game. He's going to be able to take a lot of that time and dedicate it more to his wife and his kids more than he could before. That's what he has to look forward to. He's going to experience what I'm able to experience right now: being able to spend as much time I can with my family—time I didn't have before.
You mentioned all of the future Hall of Famers in that '96 NBA draft. Are you going to be one of them?
I don't know. Hopefully. If God feels like it's my time, then yeah. But if that's not something that He wants for me, then I respect that. He's done so much for me. I mean, I've done a lot in this league. I've accomplished so many things in basketball. I financially secured my kids' life and their future. I'm just happy. I'm just blessed. So anything that I'm not awarded doesn't matter because I've been rewarded enough in this lifetime. The way that I believe in Him, He'll continue to bless me in many ways. It doesn't have to be anything as far as basketball or anything like that. I just want him to bless me and my family with health, strength, and help me with making the right decisions in my life.
What do people misunderstand about you the most?
Shit. We don't have enough time. [Laughs.] Honestly, it's that I'm just like everyone else. I'm human and I make mistakes. I don't always make the right choices when it comes to certain situations. But, I'm a father and I try to be the best example that I can be.

"I took the ass whooping in the media so that everyone else could be themselves."
Do you have any regrets?
The only regret that I have is not buying into everything that Larry Brown was giving to me. I wasn't accepting of the gift when I should've [been]. A lot more positive things would've happened if I had accepted the gift earlier. I'm glad I did accept it, eventually. Better late than never.
Would you have eventually won a championship if things shook out differently? 
I don't lose sleep over not winning a championship. I hold my head high and understand it just wasn't meant for me.
Do you still have a relationship with Larry Brown now?
Absolutely.

How often do you guys talk?
It's not all the time. It can go to every other day to every other next week. Then it can go from every other two months. And then three months or something like that. But if we need each other, we know where to find each other. Trust me.

What do you guys talk about? 
There's nothing to talk about when it comes to basketball on my side. [Laughs.] Sometimes he wants me to try to help out a player or give advice on a player.
How many offers are you getting from international leagues nowadays?
None because I put it out there that I'm done. My playing days are over. I'm not looking back.

Would you ever see yourself working in the NBA again? 
Not as a coach. I don't ever think I'll coach. Anything else to help an organization, I could see myself doing. I could see myself helping a little league team, high school teams, or stuff like that. But not any coaching on a professional level. Maybe in a front office. Anything where I can help, I would definitely be up to that.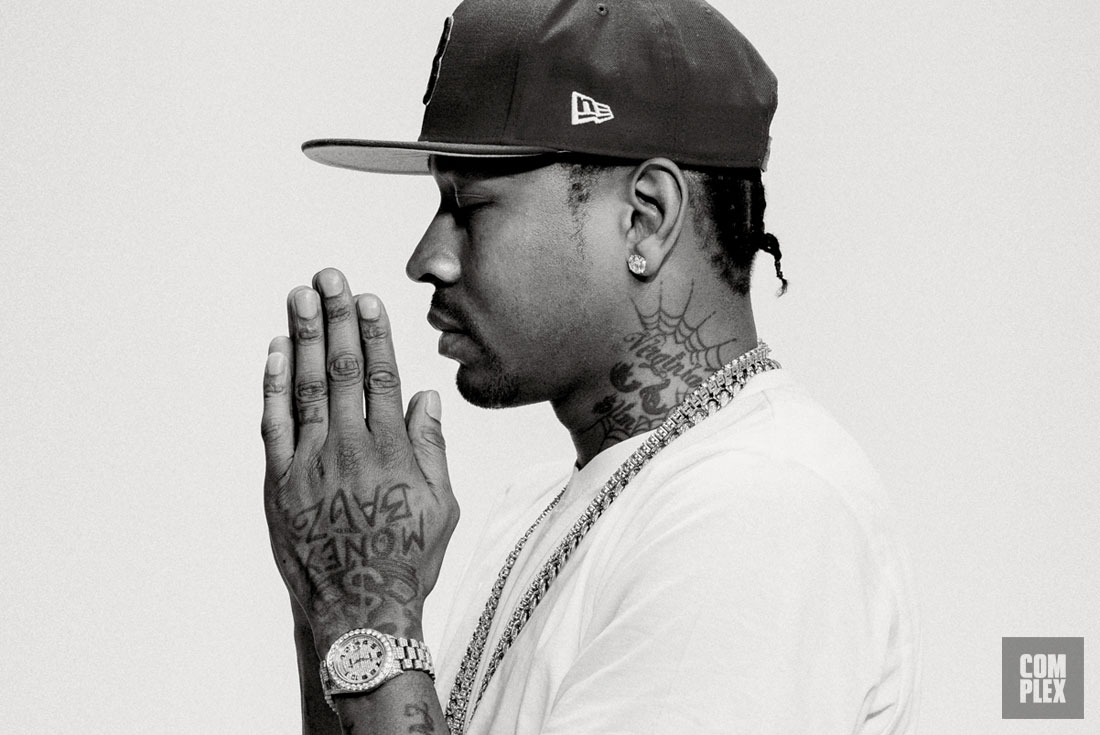 What's your take on the state of the 76ers right now?
They're young. It's coming, but they're just young. You got to give them some time. It's not going to happen overnight. They're the youngest team in the league, so you can't expect magic to happen overnight. They need those veteran guys in there—three or four guys that know how to do it. Put together with that young talent and they can only get better. 
Do a lot of these young guys ask you for advice?
No. I mean, that's why they got coaches. But anyone who wants to holla at me about anything, they know they can. They got my number.

Who do you talk to the most often?
I would say Lou Williams and Michael Carter-Williams. That's probably it. I love J.R [Smith]. I love Carmelo. I love K.D. Those are my guys. I love those guys.
Describe a normal day for you now?
I usually take the kids to school, come back home, do some work in my office, watch TV, pick them up from school, bring them home, maybe go hang out with my friends for a little while, and bring it in.
Are you strictly a family man since you left the NBA?
Yea. That and I have even more time with my friends. I'm not away from the fun part of my life. It's going to be like that until I die. I'll always continue to have fun with my friends. But I'm going to spend as much time with my family and help my girl with my kids as much as I can.
What do you do for fun nowadays?
We play cards. We like to shoot pool at my crib. I like to take my kids to the movies. We do a lot of movies. I love having my homeboys come to the crib and we all watch the games on the movie theater. That's the fun part of my life now.

Do you miss being around the game at all?
Everything except the media aspect about it. [Laughs.] I took the ass whooping in the media so that everyone else could be themselves.
Would you say that was your biggest contribution to the game?
That's part of it. Everything that I brought to the game. My energy. My effort. My style. My look. My gift. My mistakes. The positive things that I did. The negative things I did. Because all of it was a learning experience for the other guys to come after me. I just gave the game everything that I had to give. 

How hard was it for you to walk away?
It wasn't hard for me because I knew it was time. I was ready and I never thought I would get to the point where I would be. I couldn't believe it was over, but I was happy with my decision.