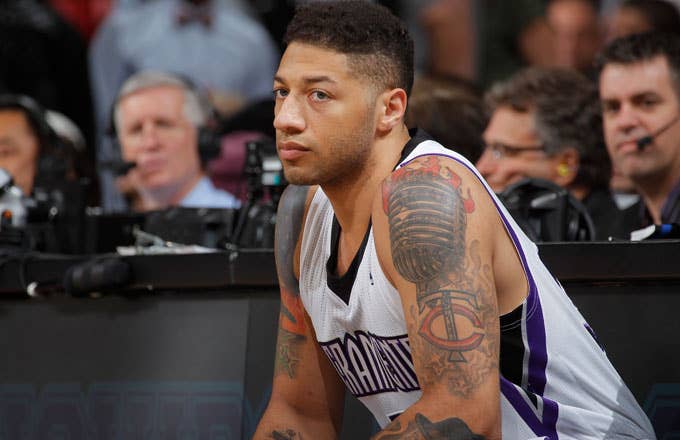 Following a long line of people who have already done it, Royce White weighed in on the fact that Carmelo Anthony is still not on an NBA roster two months out from the league's opening night. Thus far Carmelo's lack of employment has been a frequent topic of discussion to fill time during the calendar's NBA-less period, but White all but ensured that his comments would get coverage because he called out another player (well, actually two, but one real high profile guy) during the airing of his grievance.
Specifically White, who is now a part of Ice Cube's Big3 league, called out LeBron James for not making sure that "his banana boat brother" has a spot on the Lakers' roster.
"All of us here, that play basketball at the highest level, know how good Melo is," White said, after also claiming that Anthony is "absolutely being blackballed."
From there he segued to calling out LeBron, complete with a reference to that vacation pic that will never die.
"We know that there's no way that the Lakers would go out and sign Jared Dudley and not sign Carmelo Anthony," White added. "And another question is, while a guy like LeBron is walking around here like he's the face and voice of the players, how is he letting his 'banana boat brother' hang out there in the wings? And they're going to go and sign Jared Dudley and not Carmelo. If anybody watching this thinks that Jared Dudley can hold Carmelo's jockstrap, I'll slap them."
Hmmm. Actually seems like Jared Dudley might have gotten the worst of that. On Tuesday, Dudley responded to White via a since-deleted tweet. "I do cheer hard when it's that time and I've also played over 850 games and started close to 300 including a couple in last years playoffs bruh," Dudley wrote. "Don't try and disregard my Career for another man. Go check the analytics bruh! Offensive rating and defensive. Now you a GM."