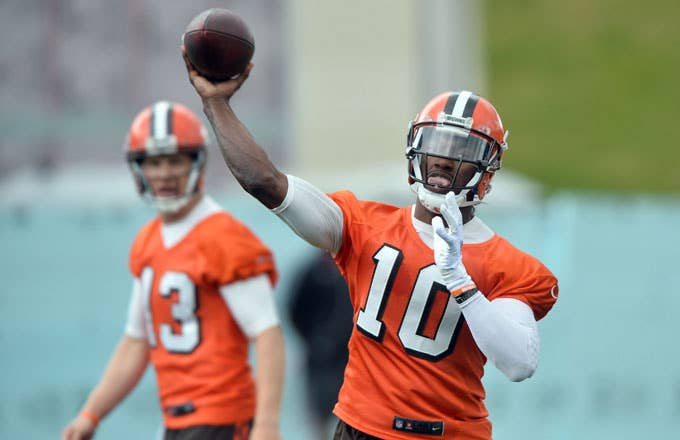 The Browns have announced that they will have yet another new starting quarterback lining up under center for them when the 2016-17 NFL season kicks off in September. On Monday morning, Browns head coach Hue Jackson revealed that Robert Griffin III will start for the team this season, which makes him the 25th starting quarterback to suit up for Cleveland since 1999.
"It's time," Jackson said after announcing RGIII as the starting QB. "Robert has earned the right to be named the starting quarterback of the Cleveland Browns."
To win the position, the 26-year-old Griffin beat out last year's starting quarterback Josh McCown as well as Austin Davis and the team's 2016 third-round draft pick Cody Kessler. However, judging by the Browns' recent history, you're almost guaranteed to see at least two of those players start at some point later on in the year for one reason or another.
RGIII has shown that he's more than capable of being a starting quarterback in the NFL in the past. During his rookie season with Washington, he set NFL rookie records in a number of categories including passer rating (102.4) and rushing yards by a QB (815). In 2013, he also became just the fifth player in league history to throw for more than 3,000 yards in each of his first two seasons. But during his final season with the Redskins in 2015, RGIII suffered a concussion in the preseason and eventually lost his starting spot to Kirk Cousins. He ended up being inactive for 15 of the team's games, was listed third on the QB depth chart behind Cousins and Colt McCoy, and was even reportedly lining up at safety with the scout team before being released by the organization in March.
Yep, definitely sounds like a Brown. Assuming the game isn't canceled (SMH, NFL), Griffin will make his Cleveland debut when the team plays the Packers in a preseason game on Friday.