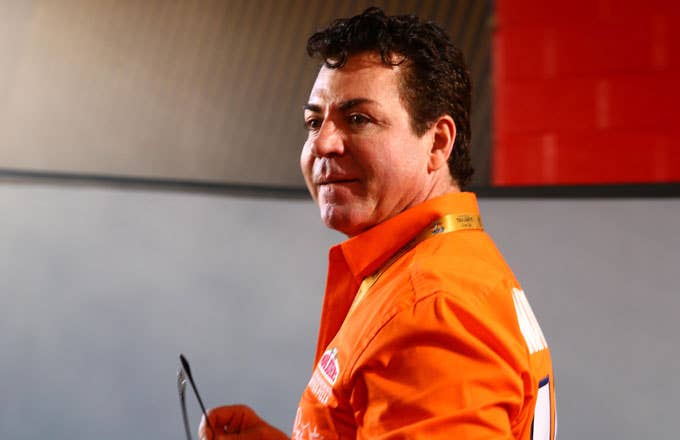 On Tuesday afternoon, Papa John's released a third-quarter financial report and the results were, shall we say, not good. According to Forbes, "The business beat estimates on earnings and revenue, but it lowered guidance on same-store sales for the coming period."
This news resulted in a slide that pushed shares down by 11 percent (as of early Wednesday afternoon) and the company's CEO/namesake, who owns a quarter of the business, saw his net worth fall by $70 million. His value now sits at $801 million (damn, poor guy).
Now this (obviously) would not be a sports story on a normal day, except that the pizza chain's management pinned the declining sales on the pregame NFL protests that have taken place over the past season-and-a-half. As anybody who's watched an afternoon of NFL games knows, Papa John's goes bananas with the advertising. Seriously, you're lucky if you can get through a change of possessions or a challenge without seeing him hock his pizza alongside Peyton Manning or J.J. Watt. After all, they are "the official pizza of the NFL."
On Wednesday, the Papa John (real name John Schnatter) blamed the plummeting sales on a lack of leadership from the NFL. "The NFL has hurt us," he said in a conference call. "We are disappointed the NFL and its leadership did not resolve this (...) Leadership starts at the top, and this is an example of poor leadership." He added that he thought this issue was "nipped in the bud" last season.
Furthermore, executives for the company said the chain has yanked most of the ads they run during NFL games.
Papa John's president and chief operating officer Steve Ritchie stated on the same call that the company suspected protests to be behind their reduced pizza orders. He said that research found Papa John's to be the most recognized sponsor tied to the NFL for the past two years, which isn't surprising. Ritchie also said they expect sales to continue to blow until "a solution is put in place." In addition to a deal with the entire league, Papa John's also has partnerships with 23 of the NFL's 32 franchises.
According to ESPN, Papa John's did not provide specific numbers on just how much their sales have dropped.
Outside of banning protests during the anthem (which is just going to make things worse) it's not exactly clear what the NFL's league office can do in this particular instance, though players have suggested signing Colin Kaepernick would be a good starting point.
Even though a team has to make that decision, and the league can't just pick a franchise out of a hat and order them to sign him, Kaepernick's attorney, Mark Geragos, did say on Tuesday that he expects the free agent QB to be signed in the next week-and-a-half.
"I think within the next 10 days somebody will sign him," Geragos said on The Adam Carolla Show. "I think somebody's gonna sign him. I think the NFL has to come to their senses, and realize every day that goes by just proves the collusion case even more."