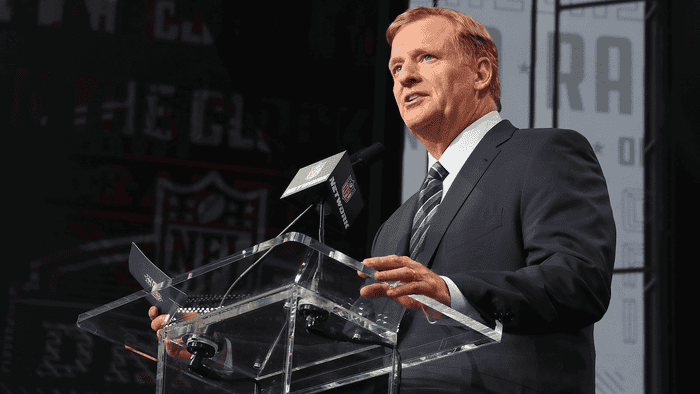 When it comes to the coronavirus screwing over sports, nobody lucked out on the timing better than the NFL. They were able to run out their full season, get their playoffs in, and even wrap up the Super Bowl (complete with that boring Pro Bowl week in between) without compromising.
Now the world still has several months to get their shit together before the 2020 regular season officially gets infringed upon. 
Nevertheless, the virus has still forced the league to make big-time adjustments, most notably messing up the NFL Draft (and also tinkering with scouts' abilities to complete in-person assessments of players beforehand). 
On Monday, the league announced their most drastic move yet to work around the pandemic by informing all 32 teams that the draft would take place in an entirely virtual format.
Due to league/team facilities being locked down to comply with COVID-19 regulations, organizations were told to prepare to conduct the draft outside those facilities, and relevant personnel were told to be in different locations and use phones/internet to communicate (see: work from home).
The draft had been scheduled to take place in Las Vegas from April 23-25, but as you're certainly aware pretty much every entertainment industry has been forced to make serious changes over the past month. The NFL made an announcement on March 16 that they planned to make an adjustment for the draft, which this pretty obviously is.
NFL Network's Tom Pelissero obtained the memo that commissioner Roger Goodell sent to each team. You can read that, in full, below:
"In response to developing conditions and the advice of medical and public health experts, authorities at all levels of government have expanded the scope and extended the duration of orders requiring residents to shelter-in-place ("stay at home" orders) and closing non-essential businesses. These orders now cover the vast majority of residents and include every NFL home community. In some locations, these orders extend as far as June, and we should expect that this trend will continue.
We doubt anyone's real happy here, but our condolences especially go out to ESPN and NFL Network.