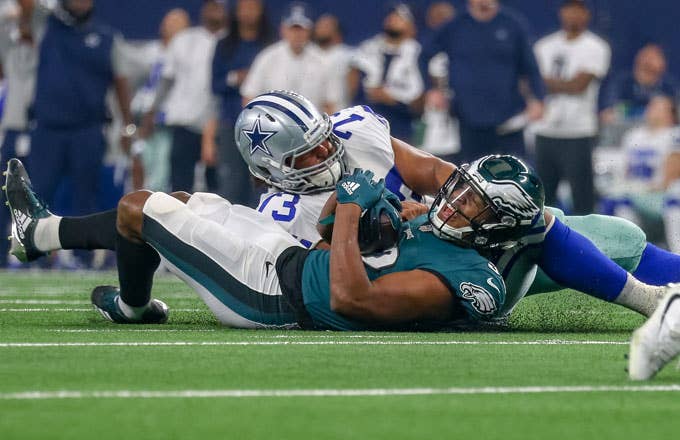 According to testimony given at a New Jersey murder trial on Tuesday, a fatal stabbing that took place last year, almost immediately after Philadelphia beat New England to win Super Bowl LII, occurred because the victim had insulted the Eagles in a passing comment to his father.
While on the witness stand, 57-year-old Supreme Life (a name he chose for religious and personal reasons) said that he was outside of his home celebrating Philadelphia's win when his 33-year-old son, Antoine Ketler, had returned home after shopping. You see, Life says that Ketler is a Cowboys fan, and he stated that he lightly mocked his son for that fact upon his return. He said that, in response, Ketler replied "F*ck the Eagles," and this was overheard by a couple of men who were driving by at the time.
Life says that he had briefly gone into his home but came back outside to assist his son after his wife alerted him that those two men had attacked their kid. Life claims that he was "overpowered" and that he stabbed 26-year-old Moriah Walker to death in self-defense. He says that, prior to that, he was knocked to the ground where he was punched and kicked, which was the reason he drew his pocketknife.
Walker died shortly afterward from a stab wound to his heart. He also had wounds to his chest, leg, and arm. Life claims that the two were wrestling on the ground when Walker rolled onto him, causing "the weight of his body" to fall "on the knife."
In addition to Walker's murder, he has also been charged with stabbing the other man, Raheem Williams, in the abdomen. His explanation for how that occurred is that, after he freed himself from Walker, Williams and his son were on the ground fighting. He said he heard his wife shout that there was a gun, and that he inadvertently stabbed Williams while pulling him off his kid. He later testified that no gun was involved.
Both Williams and Walker were said to be attending a Super Bowl party just a few houses down. Life testified that they were in their car when his son spoke and that they backed the car up to initiate the confrontation after the aforementioned "F*ck the Eagles" line.
Ketler also informed the judge of the trial that he wouldn't testify. While his legal problems aren't as severe as his father's, he has also been charged with attempted murder for his role in the fight. Life said that he initially withheld info of Ketler's involvement from the cops because he didn't want his son involved. Both men have been jailed over the year-plus since the incident occurred.
As for the other side of the story, Williams' girlfriend said that she was with him and Walker at the Super Bowl party and that they had exited the vehicle they were in because someone had either punched or kicked their car. She says the fight went on for a while and that it stopped when she put her hands around Ketler's neck to get him to let go of her boyfriend.
The trial is expected to go to jury next week.