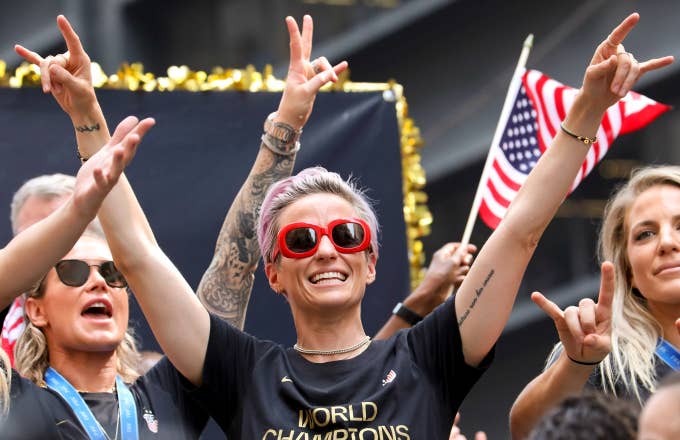 The World Cup-winning U.S. Women's National Team have become crusaders for narrowing the wage gap in professional sports, especially when it comes to their pay in comparison to the men's team. 
On Monday, U.S. Soccer President Carlos Cordeiro released a letter stating that from 2010-2018 they've paid $34.1 million in salary and game bonuses to the USWNT. This is $7.7 million more than the $26.4 million U.S. Soccer paid the men's team. Also, according to the letter, that $34.1 million doesn't factor in certain health care expenses that aren't offered to the men's team.
Yet, what Cordeiro didn't mention is that the men's team has never won a World Cup. As for the women's team, they've won two World Cups and a gold medal since 2010. When this is factored in, the $7.7 million more they make (which is divided by at least 23 players) doesn't seem reflective of their accomplishments. It's this discrepancy that led a select group of USWNT players to file a lawsuit against U.S. Soccer. According to a spokeswoman for the players involved in the suit, Cordeiro's letter is an attempt to cook the books and a failed attempt to silence the outspoken players.
"[The letter is] a sad attempt by USSF to quell the overwhelming tide of support the USWNT has received from everyone from fans to sponsors to the United States Congress," Levinson told CBS. "The USSF has repeatedly admitted that it does not pay the women equally and that it does not believe the women even deserve to be paid equally. This is why they use words like 'fair and equitable,' not equal in describing pay."
The men's team also released a statement disputing the letter, while supporting the women's team. "This is more of the same from a Federation that is constantly in disputes and litigation and focuses on increasing revenue and profits without any idea how to use that money to grow the sport," the USMNT's statement read. "One way to increase profit unfairly is to refuse to pay national team members a fair share of the revenue they generate."
It's been an eventful week for U.S. soccer, after USWNT coach Jill Ellis retired from coaching the women's team to their second World Cup in a row on Tuesday.
"When I accepted the head coaching position, this was the time frame I envisioned," Ellis said in a statement. "The timing is right to move on and the program is positioned to remain at the pinnacle of women's soccer. Change is something I have always embraced in my life and for me and my family this is the right moment."