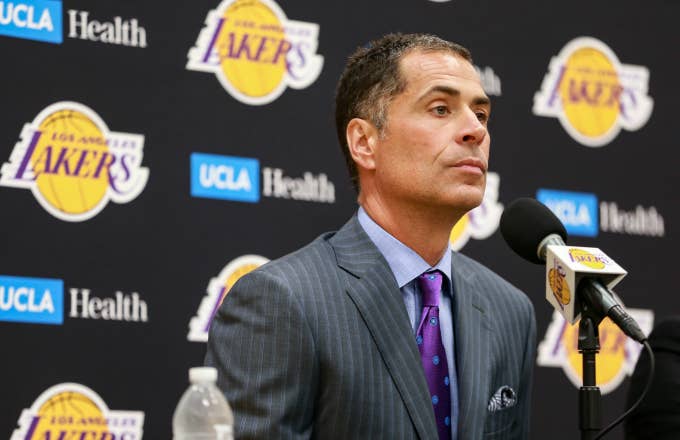 The past Lakers season was the equivalent of having 10-inch rims and keeping them clean. It wasn't what fans expected, but they found comfort in LeBron James' injury and the possibility of signing/trading for another superstar this summer. On Tuesday, ESPN released an article that popped the hood on this whip to reveal a dysfunctional organization that's seemingly on the verge of being totaled.
In the piece, Baxter Holmes detailed a fractured franchise built on people with little to no front office experience. This unstable situation started to collapse from the inside out when Magic Johnson coaxed LeBron into coming to Los Angeles. But with James came a host of business partners hoping to keep their client's brand afloat. James' agent Rich Paul began to interject himself into executive decisions. This created a sphere of distrust leading general manager Rob Pelinka to distance himself from Magic Johnson, resulting in Johnson's infamous impromptu resignation. 
The most revealing information to come from Holmes' articles were the stories about Pelinka and Johnson's personalities. According to Holmes' sources, Johnson isn't this happy-go-lucky smiling face he projects to the public. In actuality, he's a stern boss who's quick to reprimand employees of any level. As far as Pelinka, he's reportedly more deceitful than the reputation he amassed as an agent. This is best exemplified through a largely untrue story about his client Kobe Bryant meeting Heath Ledger following The Dark Knight.
The wildness surrounding the Lakers' office has NBA Twitter on fire. Fans are ripping into the Lakers while wondering how this will impact their quest for another big name player.