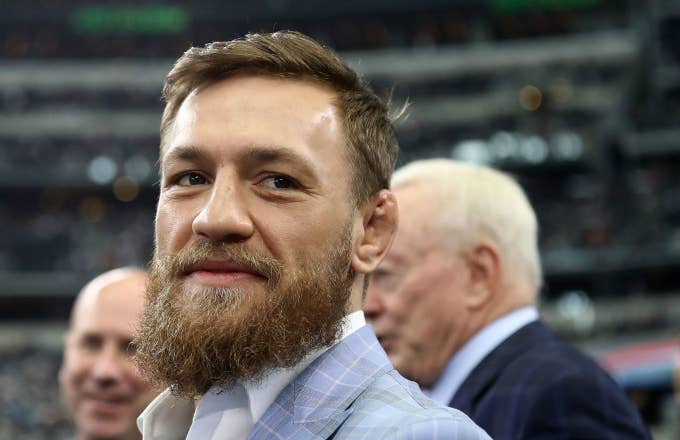 Conor McGregor shocked the world on Tuesday when the electrifying UFC fighter announced that he will be retiring from the world of mixed martial arts. 
"Hey guys quick announcement, I've decided to retire from the sport formally known as 'Mixed Martial Art,'" McGregor tweeted before wishing his former contemporaries the best of luck as they continue their career.
The thought of losing one of the sport's most popular athletes had many UFC fans reminiscing on McGregor's impact. However, one former opponent, Khabib Nurmagomedov, did not spend time eulogizing Conor's groundbreaking career. Instead, the undefeated UFC lightweight champion took this opportunity to solidify his place as the company's newest superstar. Like his adversary, Nurmagomedov followed McGregor's announcement with a tweet of his own. In the post, Khabib alludes to Conor's departure by tweeting a picture of himself and his title belt that is captioned, "There can be only one king in the jungle."
As reported, Nurmagomedov and McGregor have had a troubled competitive relationship. This tension following Nurmagomedov's win over McGregor at UFC 229. After McGregor conceded the match by submission, a post-fight brawl ensued between the two fighters and their teams. This led to both McGregor and Nurmagomedov being suspended from competition, which Conor was still serving when he retired.
Until this morning's tweet, McGregor gave no indications that he was ready to retire. In fact, the just hours before his announcement, McGregor appeared on The Tonight Show with Jimmy Fallon where he alluded to returning to the octagon.
"I don't necessarily need to fight. I am set for life, my family is set for life, we are good," McGregor told Fallon. "But I am eager to fight so we'll see what happens. I'm just staying ready as I like to say."
Because of the proximity of these conflicting statements, fans think that this might be another one of McGregor's stunts to help sell a potential future fight. In 2016, McGregor tweeted that he was going to retire only to renege on the commitment two days later.
Still, it is unaware if this is merely McGregor's rendition of JAY-Z's Fade to Black or if the fighter has truly retired. Either way, UFC President Dana White feels that leaving close to the top would be McGregor's best move since Conor's side-hustles are flourishing. 
"He has the money to retire and his whiskey is KILLIN it," White texted Yahoo Sports. "t totally makes sense. If I was him, I would retire, too. He's retiring from fighting, not from working. The whiskey will keep him busy and I'm sure he has other things he's working on... I am so happy for him and I look forward to seeing him be as successful outside of the octagon as he was in it."