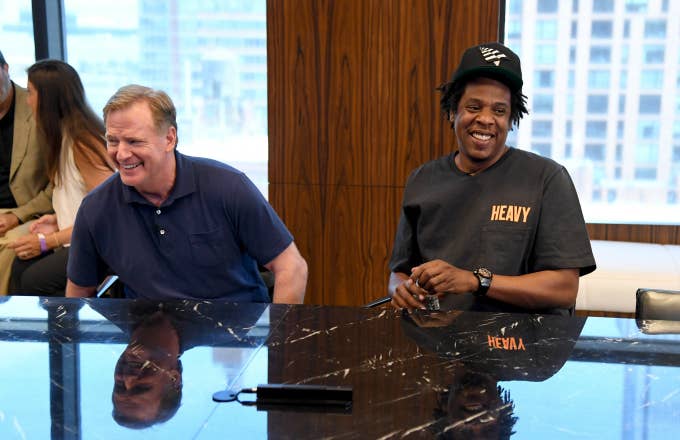 There has been a lot of confusion surrounding the details of JAY-Z's partnership with the NFL, but according to CBS Sports, insiders close to the situation refute claims that Hov will be the NFL's newest owner.
When it was announced that he would be the NFL's new live music entertainment strategist, fans and analysts alike were spinning their wheels in an attempt to decipher the cultural impact of the partnership. Shortly after the news broke, TMZ reported that JAY-Z's partnership will make him the part-owner of an unnamed franchise. But sources close to the league told CBS Sports that there are "no plans in place" for Hov to become an owner. According to CBS Sports' sources, people inside Roc Nation and the NFL are trying to find out who leaked the false information in the first place.
If JAY-Z was to own an NFL team, it wouldn't be the first time he tried his hand at sports ownership. In 2004, JAY-Z bought a $1 million share of the Brooklyn Nets, and became the face of the franchise while the then-struggling Nets made the transition from New Jersey to the borough. But per an "ownership-level" source, there's currently no avenue for JAY-Z to draft up a similar play in the NFL.
"Those kinds of deals don't exist in the NFL," the insider told CBS Sports before explaining that there's a strict "vetting process" to become an NFL owner. "There is no ownership component to this arrangement."