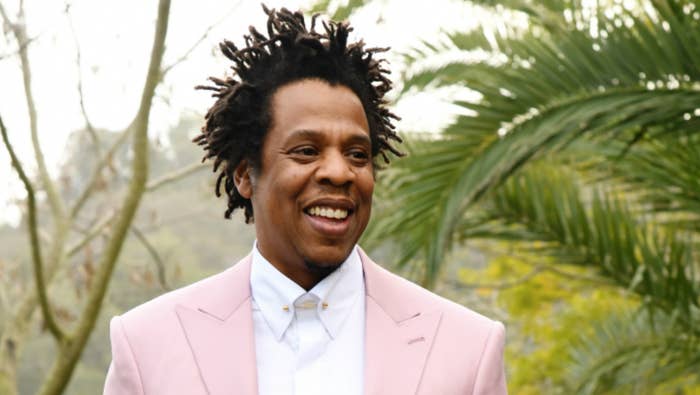 JAY-Z's position with the NFL has been a polarizing topic ever since the partnership was announced. Now that the first Super Bowl under his supervision is on the horizon, Hov decided to shed light on why he aligned himself with the league. 
During a conversation with the New York Times, JAY-Z explains that he agrees with Colin Kaepernick's decision to take a knee. His motive for partnering with the NFL was to expand on Kaepernick's message so that it's not reduced to a symbolic gesture.
"No one is saying he hasn't been done wrong," JAY-Z said. "He was done wrong. I would understand if it was three months ago. But it was three years ago and someone needs to say, 'What do we do now — because people are still dying?'"
The rapper faced a lot of criticism when his partnership with the NFL was first announced. Some fans went on the offensive against Hov because of the way the NFL blackballed Colin Kaepernick for protesting the national anthem. Eric Reid, who took part in Kaepernick's collusion case against the NFL, called Hov and Roc Nation's deal "kind of despicable." At the same time, fans believed that the rapper-turned-billionaire was putting his own economic interests over systematic injustice. Although he hasn't disclosed how much he stands to gain from his partnership with the NFL, JAY-Z insists that money wasn't the motive. 
"We didn't say, 'Let's go make some money off the NFL,'" JAY-Z said. He also directly addressed the criticism he's receiving, claiming that it's a cross he's willing to bear in en route to achieving his goal.
Jay-Z said he can live with the criticism if he is able to use the N.F.L.'s platform to convince white football fans that they too should be concerned about police brutality. "As long as real people are being hurt and marginalized and losing family members, then yes, I can take a couple rounds of negative press," he said.
Through the partnership with the NFL, JAY-Z and Roc Nation are in charge of the league's "Inspire Change" program. This program addresses "education and economic advancement, police and community relations, and criminal justice reform." Through the program, Hov and Roc Nation have ushered in a series of public service announcements called "Everybody's Child" that focuses on people killed by police violence and other initiatives. 
JAY-Z and Roc Nation also curate the NFL's entertainment and music selection, making them in charge of coordinating the Super Bowl halftime performances. This news comes after Hov famously declined performing during the big game. Per Jigga, he would have done it if the league didn't ask him to bring Rihanna and Kanye West with him to perform "Run This Town."
"Of course I would have," he said. "[B]ut I said, 'No, you get me.' That is not how you go about it, telling someone that they're going to do the halftime show contingent on who they bring. I said forget it. It was a principle thing."
To him, the way the NFL approached him showed that the league lacks cultural competence. This was solidified by last year's Super Bowl in Atlanta. Atlanta is the current epicenter for rap music. It is safe to say that the city's influence helped make hip-hop the no. 1 genre in the world. But instead of having a rap artist perform during the Super Bowl, the NFL tapped Maroon 5. That showed Hov there needed to be a shift in perspective. 
"The problem with the NFL is you all think hip-hop is still a fad when hip-hop has been the dominant music form around the world for 20 years," JAY-Z said.
For Sunday's big game, JAY-Z enlisted Jennifer Lopez and Shakira to headline the performance. He also promised a host of special guests.