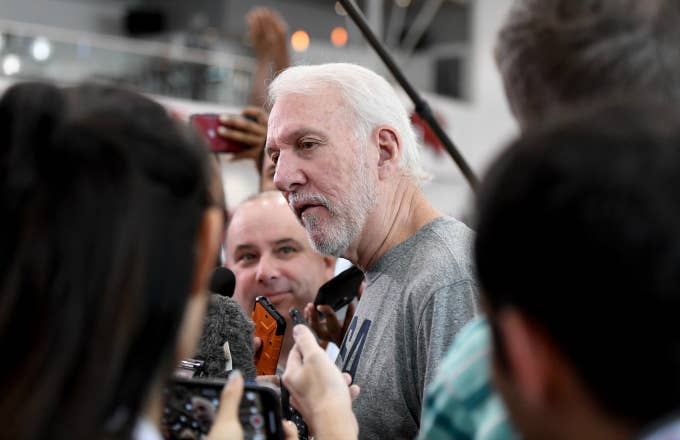 As Gregg Popovich prepares to lead Team USA into international competition at the FIBA World Cup, he took time to explain why Colin Kaepernick is a true patriot. 
After Team USA wrapped up their practice, Popovich was asked his opinion on America's diversity and what patriotism means to him. This led to a discussion about Colin Kaepernick's 2016 national anthem protests.  
"That was a very patriotic thing he did," Coach Pop told ESPN. "He cared about his country enough to fix some things that were obvious, that everybody knows about but does nothing about." Popovich then went on to define how criticizing the country can change things for future generations. 
"Because someone hugs a flag doesn't mean they're patriotic. Being a patriot is somebody that respects their country and understands that the best thing about our country is that we have the ability to fix things that have not come to fruition for a lot of people so far," Popovich continued. "Being a critic of those inequalities does not make you a non-patriot. It's what makes America great, that you can say those things and attack those things to make them better. That's what a lot of other countries don't have. You lose your freedom when you do that."
Kaepernick is once again grabbing headlines after it was announced that his avid supporter, JAY-Z, has agreed to a partnership with the NFL. This became a hot button issue when Kaepernick's fellow NFL activist, Eric Reid, disclosed that Kaep is not involved with the deal.