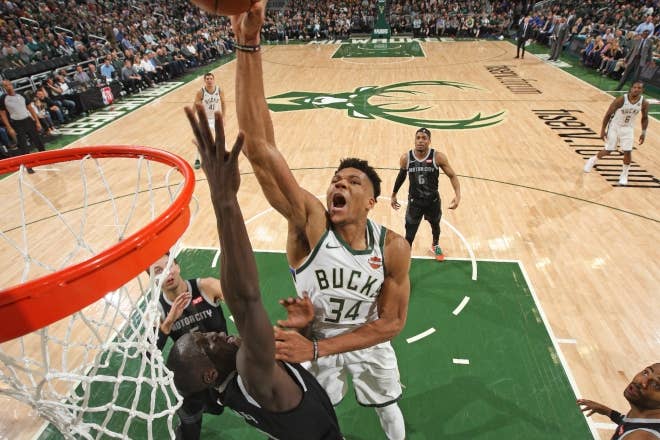 It's no secret that Drake's sideline antics during Raptors games have the tendency to rub players the wrong way. But things went to the next level when Giannis Antetokounmpo's rep decided to send spicy sub-tweets the rapper's way. 
On Wednesday, the senior director for Octagon Basketball Europe Georgios Dimitropoulos, which reps Giannis, put the potato on the barrel by tweeting a "hypothetical" scenario that mirrored an interaction between his client and Drake.
"Imagine a gig & an athlete on VIP seats, right next to the band, stands up on the stage just to show off during the entire game, knowing cameras are on him, occasionally even massaging the singer," Dimitropoulos tweeted. "Security&him both allow it. Never seen anything as disrespectful as this before..."
It's pretty clear who and what Dimitropoulos was referencing. On Tuesday night, Toronto evened the Eastern Conference Final at 2-2, by protecting their home court in back-to-back wins. As expected, the Raptors' performance during the 120-102 victory riled up Drake who has become Toronto's version of Spike Lee. Throughout the game, Drake frequently left his courtside seat to roam the Toronto sideline. The rapper even gave coach Nick Nurse a playful massage as the team pulled out the victory.
Yet, what probably angered Dimitropoulos most, was Drake taunting Giannis. Giannis' trouble at the free-throw line has plagued the Bucks throughout the series. This continued yesterday when Antetokounmpo went just 6-10 from the stripe even air-balling an attempt. After one of Giannis' misses, Drake took it upon himself to make sure Antetokounmpo knew the ball didn't go in. 
This didn't sit well with Bucks fans who ripped Drake on Twitter. But in Drake's defense, his trolling isn't specific to Giannis. The rapper hates anyone Toronto faces. Just this post-season, Drake led the Raptors crowd as they mocked Joel Emiid's airplane celebration, and in 2018, the rapper almost got into a fight with then-Cav Kendrick Perkins.