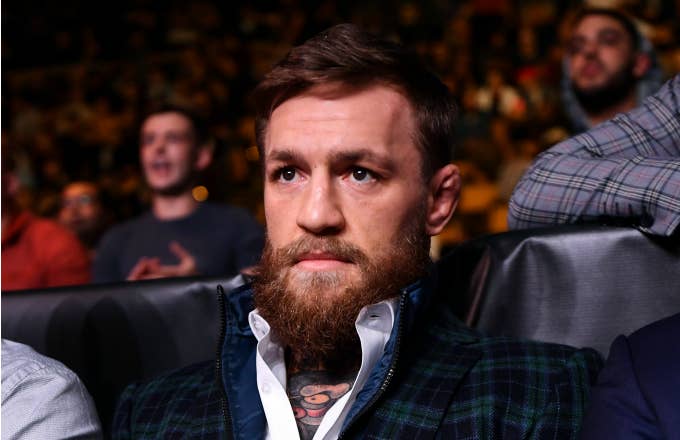 Former two-time division champion Conor McGregor has become one of the biggest faces in sports. Because of this, McGegor is starting to reevaluate how much he's worth to the UFC, leading him to demand the company cut him a bigger piece of the pie if they want him to return to the Octagon. 
Over the weekend, MMA insider Mike Pendleton reported that McGregor wants the UFC to pay him with shares of the company for bolstering the brand.
"I'm ready to fight," McGregor said while speaking to fans in Chicago. "I've said that, no problem. If the UFC wants me to slide into that co-main event and help, what that is, me sliding into the co-main event, it's boosting their brand-over-fighter rhetoric that they have. There's no problem with that. But if they want me to push that—and I have no problem pushing that—give me my rightful shares in the UFC company. That's all I ask."
These comments are not the first time McGregor has pushed for stock in the UFC. In August 2017, after raking in close to $100 million dollars from his match against Floyd Mayweather, the Irish fighter tried to use this unprecedented bout to pressure the UFC into giving him the equity he feels he deserves. 
"They've got to entice me now because I came from a billion-dollar fight. You've got to entice me with some equity. I want ownership. I want to be true partners in this similar to the way I was in the Floyd fight," McGregor told SevereMMA.
Also following his win over Eddie Alvarez at UFC 205, McGregor questioned why he wasn't being viewed by UFC as a partner rather than just an athlete. 
"Where's my share? Where's my equity?," McGregor asked. "If I'm the one that's bringing this, they've got to come talk to me now. I've got both belts, family on the way. If you want me to stick around—if you want me to keep doing [this], let's talk. But I want the ownership now. I want the equal share. I want what I deserve, what I've earned."
McGregor's complaint is rooted in the attention his fights draw the company. According to Tapology, five of the UFC's six top-selling pay-per-view event have been headlined by McGregor. But, if the UFC did not budge after McGregor proved his mass appeal against Mayweather, then it is unlikely they will grant his wishes now that he's serving a six-month suspension. 
Although it's likely that McGregor will be given stock in the UFC, president Dana White has let it be known that the fighter is welcome to buy his way into the company like all the other investors. "Listen, a lot of people bought in on the UFC," White said to TMZ Sports. "Banks, celebrities, and everything else. Listen, you want a piece? He's got a lot of money. Come in and buy a piece, man."