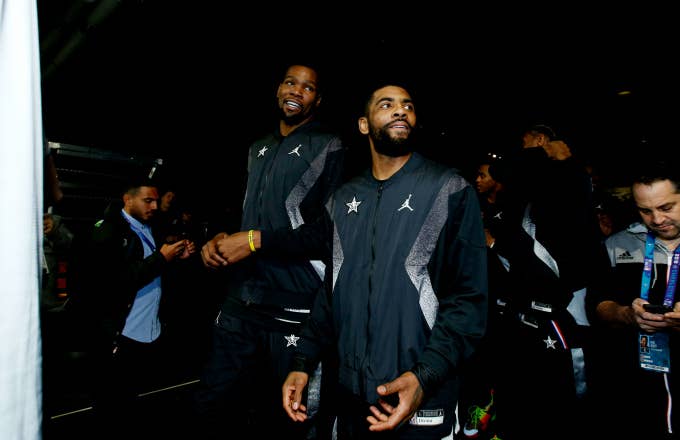 Kyrie Irving and Kevin Durant are allegedly continuing to take matters into their own hands. It has been reported that the free agents held court on multiple occasions to determine which city they will turn into the NBA's top contender.
Earlier this month, Bleacher Report's Ric Bucher claimed Kyrie visited Durant in New York while he was recovering from his Achilles surgery. Irving and Durant were rumored to be plotting on sharing the spotlight either on the New York Knicks or the Brooklyn Nets. Now Bucher is alleging that Kyrie and KD's post-operation summit was actually the second time the two have met. 
Once he was bounced from the playoffs, Kyrie traveled to Durant's Bay Area home shortly after KD injured his right calf. During his stay, Irving reminded KD of their desire to play with each other that was sparked during their stint with the U.S. national team. Irving used this history to sway him toward Brooklyn.
The news of these meetings has positioned the Nets as Durant's assumed landing spot. Per Ceasar's bookkeepers, Brooklyn leads the Warriors, Knicks, and Clippers with -125 odds to sign KD.
Already described an indecisive person, things got more cloudy for Durant once it was revealed he will miss the entire 2019-2020 season to rehab his Achilles. KD has a field of suitors willing to offer him a max contract despite the injury. As for Kyrie, his strong roots in the NYC area lead many to assume he's fine signing with the Knicks or the Nets.