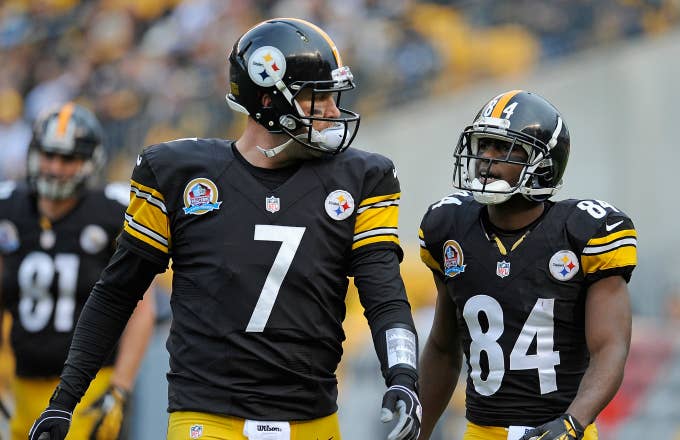 The frayed relationship between Ben Roethlisberger and Antonio Brown played a heavy role in the wide receiver's departure from Pittsburgh. Brown spoke about their disconnect on several occasion, including on LeBron James' The Shop. Roethlisberger has been quiet about the rift until he stopped by a local sports radio show on Monday.
"I took some heat and deservedly so for some of the comments on that show and especially towards him," Roethlisberger said to KDKA-FM's Bob Pompeani.
During his The Shop appearance, Brown explained how Roethlisberger's overbearing and authoritative attitude drove them apart. Brown specifically cited when Roethlisberger told the media that his bad route is the reason he threw the late-game interception that led to their Week 12 loss against the Denver Broncos.
"That's the type of guy he is. He feels like he's the owner," Brown said. "Bro, you threw this shit to the D-line. How the fuck am I going to run a better route? You need to give me a better ball."
Months later, Roethlisberger offered public apology.
"I genuinely feel bad about that and I'm sorry," Ben said. "Did I go too far after that Denver game? Probably."
Although Roethlisberger extended the olive branch, it doesn't seem like Brown believes the gesture. After Ben's comments hit headlines, Brown let off a cryptic tweet that appears to be aimed at his former teammate.