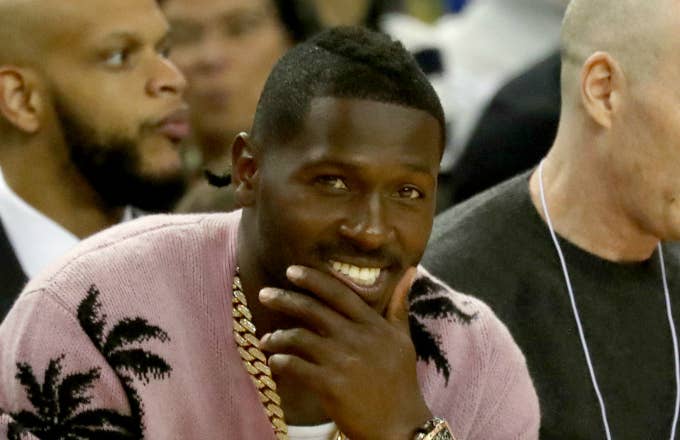 After igniting a social media feud with former teammate and fellow wide receiver JuJu Smith-Schuster, Antonio Brown appears to be fading away from the spotlight electing to focus on his new role as an Oakland Raider rather than past tension. 
On Tuesday, Brown took to Twitter where he announced that he's done with the "nonsense" and will not be giving the "media fakes" anymore "ammo" to use against him. 
"Not giving you media fakes no more ammo," Brown tweeted. "Enjoy my name AB !!! I am in Cali living ready to ball no nonsense !! You trollers troll... To good to worry #CallGod."
Antonio Brown's new approach follows him going on the offensive against ex-teammate JuJu Smith-Schuster. After a Twitter troll reminded Brown that Smith-Schuster was named the Steelers' team MVP, Brown decided to respond by referencing Smith-Schuster's costly fumble against the New Orleans Saints. 
This prompted Smith-Schuster to go on social media where he confessed that he's shown Brown "love and respect" while also advising AB to keep his emotions off the internet. That dig sparked AB to try to son JuJu by posting an archived Instagram direct message from JuJu's days as a USC Trojan. In the message, Smith-Schuster is praising Brown's approach to the game while asking if he could offer any advice. However, this shot backfired as it only proved that JuJu admires AB and has no malice towards him.
In the wake of this missed jab, it seems that Brown is shifting his focus towards the future. As the Raiders' newest member, Brown is expected to revive his explosive playmaking ability to help lift them past the Kansas City Chiefs and to the top of the AFC West. This is an obtainable task since Brown will be supported by quarterback Dereck Carr in addition to two proven running backs in Marshawn Lynch and Doug Martin.