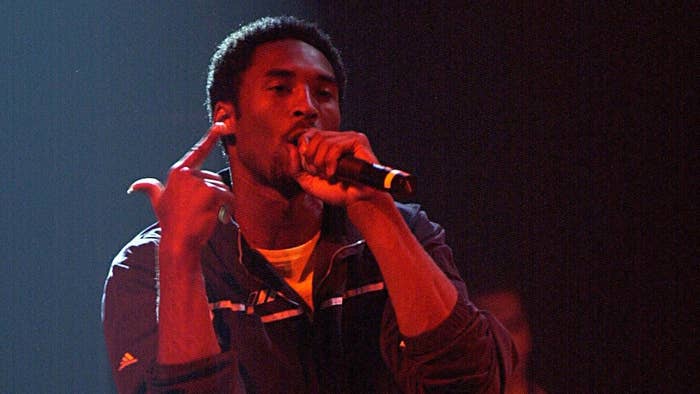 This weekend, Kobe Bryant will be inducted into the NBA Hall of Fame, in what's bound to be a bittersweet ceremony. On the one hand, Saturday's induction led by Michael Jordan, will be a celebration of Kobe's life. On the other hand, a giant "what if?" will be looming over the proceedings. It's going to be hard not to think and wonder what the world would be like if Kobe was still with us. 
On Thursday, another Kobe "what if?" emerged, when his previously unreleased album, which was tentatively titled Visions, leaked online. We all knew Kobe had dreams of a rap career when he signed to Columbia records and released the single "K.O.B.E." featuring Tyra Banks all the way back in 2000. 
But the universe had different plans and the album never saw the light of day. Instead, it became a piece of pop culture epherema—a long lost curio that felt part of a bygone era. Until now. 
We had a chance to listen to the album, which features a string of elite guest stars and some seriously killer bars. It's poof that Kobe brought that same Mamba mentality to the booth as he did to the court. Below, five things you need to know about the long lost Kobe Bryant rap album.
Why The Album Never Came Out
To fully grasp this album, fans first have to understand its backstory. Bryant's Laker teammate, Shaquille O'Neal, was able to turn his Diesel/Superman persona into a successful rap career. After seeing Shaq go platinum, Steve Stoute wanted to replicate that success with Kobe. 
Stoute—who was the president of Sony's Urban Music at the time—signed Kobe and his rap group, CHEIZAW, to a deal in 1999. He then moved Kobe from Los Angeles to a mansion in New Jersey where he hoped to immerse Kobe in the New York City rap scene. For three weeks, Kobe would train relentlessly then record all night at the Hit Factory. Out of this, came Kobe's debut album, Visions. 
But unlike Shaq, Kobe's off-court persona wasn't big enough to overshadow a lackluster rollout. Visions's lead-off single, "K.O.B.E." didn't resonate with audiences, moving the label to shelve the project altogether. As the years passed, Visions took on a mythical status much like Allen Iverson's Jewelz project. 
Full of Big-Name Features
Unless you're J. Cole, a great album should also have great features. Visions was no different. Tyra Banks set the tone with her short cameo on the album's single "K.O.B.E." The album also boasts appearances from generational talents like Nas, 50 Cent, Beanie Segal, Black Thought, and Destiny's Child. Kobe's fellow CHEIZAW member, Broady Boy, is also featured on five tracks.
Additionally, it should be noted that Visions is undeniably hip-hop. Along with the aforementioned features, Kobe raps on a host of infamous rap samples. "K.O.B.E" samples Rodney O and Joe Cooley's "Everlasting Bass" (which Lil Wayne ripped through on Da Drought 3) and he turned Run DMC's "My Adidas" into an homage to the footwear brand that signed him before Nike. But, the most surprising loop comes from Lauryn Hill. A piece of her voice from "Doo Wop" was tied into the chorus of "Can I Live" to depict the downside of fame.
Kobe Didn't Believe in Ghostwriters
Normally, a superstar album like Visions would have the studio littered with rappers begging to get writing credits. But if Kobe's career has taught us anything, it's that he doesn't take shortcuts. That's why, throughout the album, Kobe makes it clear to listeners that he didn't have anyone help him write his bars. In fact, he starts off the song "Squint Your Eyez" with the lines: "First things first/You think I don't rhyme and that I'm reciting my verse?/Your words are deader than a hearse."
There's No Shortage of "Gun Barz"
As one of the NBA's most prolific shooters, it's only right that Kobe's debut album is filled with clever lines about guns. Before you start condemning Bean for his infatuation with the second amendment, you've probably heard harsher lines on a Lil Bow Wow album. Still, it's fun to know that Kobe was in touch with hardcore rap fans enough to know that they would enjoy a few gun flips here or there.
Below are some of our favorites. 
"Get Ready"—"My minds a .380, I spray you down, baby … When I cock back, baby/It's bye bye baby."
"Squint Your Eyez—"Your career is gone. … Like stray shots through civilians."
"Reach"—"Me, I'm so hot, I spit fire/Spit shells, what I spit, lights ya."
"It's Over"—"I'm like a gun cocked, y'all Glocks is on safety/Still in the holster, I'll purple heart you soldiers/I'm him, Mr. Red Rum flows liquor."
The "Mamba Mentality" Was Always There
Although Kobe humored us with playful features and bar flips, he never let the moment get too big that he couldn't grasp its seriousness. Visions shows the early seeds of motivation and determination that would eventually become the "Mamba Mentality" later in his career. Tracks like "Think Big" and "Reality Check" put life in perspective for the listeners. They warn fans not to be prisoners of the moment by chasing material things. Instead, he posits that find their purpose and work hard to achieve their goals. "Tomorrow" also offers Kobe's perspective on the mistakes that most men make and how they should be better for future generations.