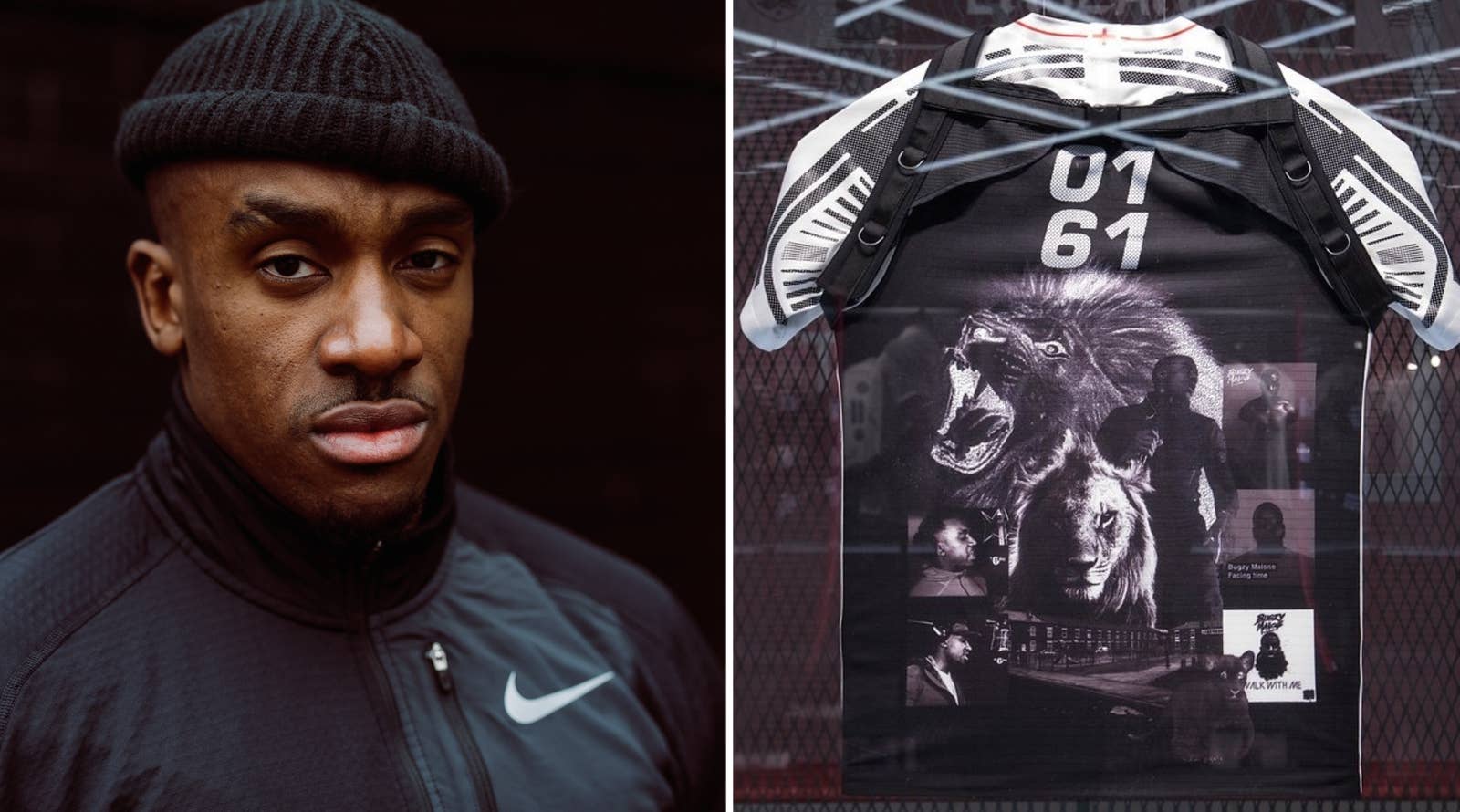 With under three weeks to go until a new generation of England players take to the stage at the FIFA World Cup, anticipation is building across the country for football's showpiece event and Nike are tapping into some of England's most influential and inspiring communities in their latest project.
The 'White Shirt Project' is an exploration into the diverse cultural relevance of the England shirt. Nike Football, in partnership with Tottenham Textiles, identified 11 fearless and progressive communities, athletes, artists and fans to share their unique and inspiring stories by creating their very own one-of-one England shirt.
Manchester's grime MC Bugzy Malone was one of the people chosen to put his own stamp on the latest England jersey. Chosen because of his track record for challenging conventions and breaking new ground (0161's Bugzy made his name in a London-dominated grime scene), the 'King of the North' designed a jersey that was an homage to his local community and the early chapters of his career.
We went one-on-one with Bugzy to break down his new collaboration with Nike, his personal fan story with England and why football will always mean so much to the streets.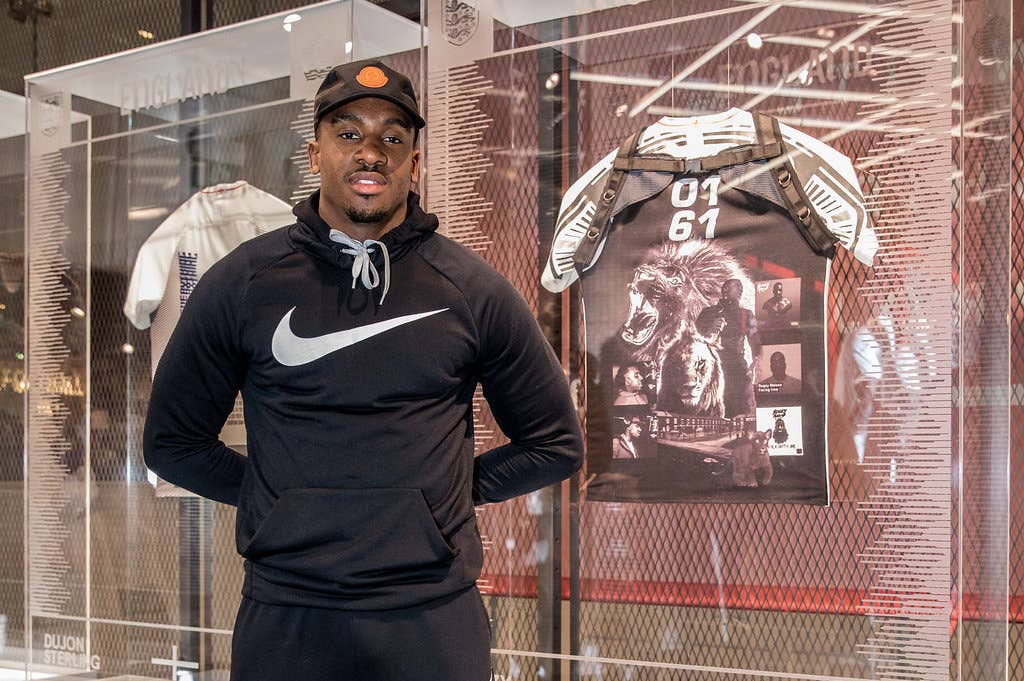 COMPLEX: What are your earliest memories of football?

Bugzy Malone: My earliest memories of football were watching and being taught about the legends. Hearing about the likes of Diego Maradona and Pele and watching them on VHS tapes. I was taught about Pele's footwork and how he could just effortlessly run past players. I was definitely educated about the beauty of football more than anything else. It's so interesting to see the impact players and their iconic statuses are having on jersey culture and kids today. 
What's the first international tournament you remember watching and who were some of your favourite England players?

I was most excited about the England team and England shirt from 1998. I had the game, the sticker books, the figures with the big heads, everything! I used to watch Becks, Zidane and Vieira on TV and immediately go around the back of my house and recreate the games with my mates. Hopefully youngsters today will see my shirt designs for the Nike White Shirt Project and be inspired to create similar memories.
When did you first get into jersey culture? What are some of your favourite kits throughout history?

I came from a background where there wasn't loads of money in the family so I wasn't necessarily always the first to get jerseys but I did always make sure I had the England kit. That was one of the rare occasions when I would ask for a jersey well in advance and actually get one. I was so gassed at owning it man, you'd put it on and it would make you feel like an actual England player. You'd also have those custom badges proving authenticity, I loved that! 

Do you feel jerseys have become a lot more street inspired lately? What are some of your favourite jerseys in the game right now?

It's interesting, everyone's looking to replicate past jerseys these days, they almost feel and look like they've been customised. It's one of the reasons I wanted to create my own designs for the Nike White Shirt Project. My shirt tells my own story, hopefully it goes a way to inspiring youngsters and a new jersey culture, maybe my designs will be a favourite for kids from my community on a similar come-up. I'll definitely be repping my Three Lions jersey on the streets.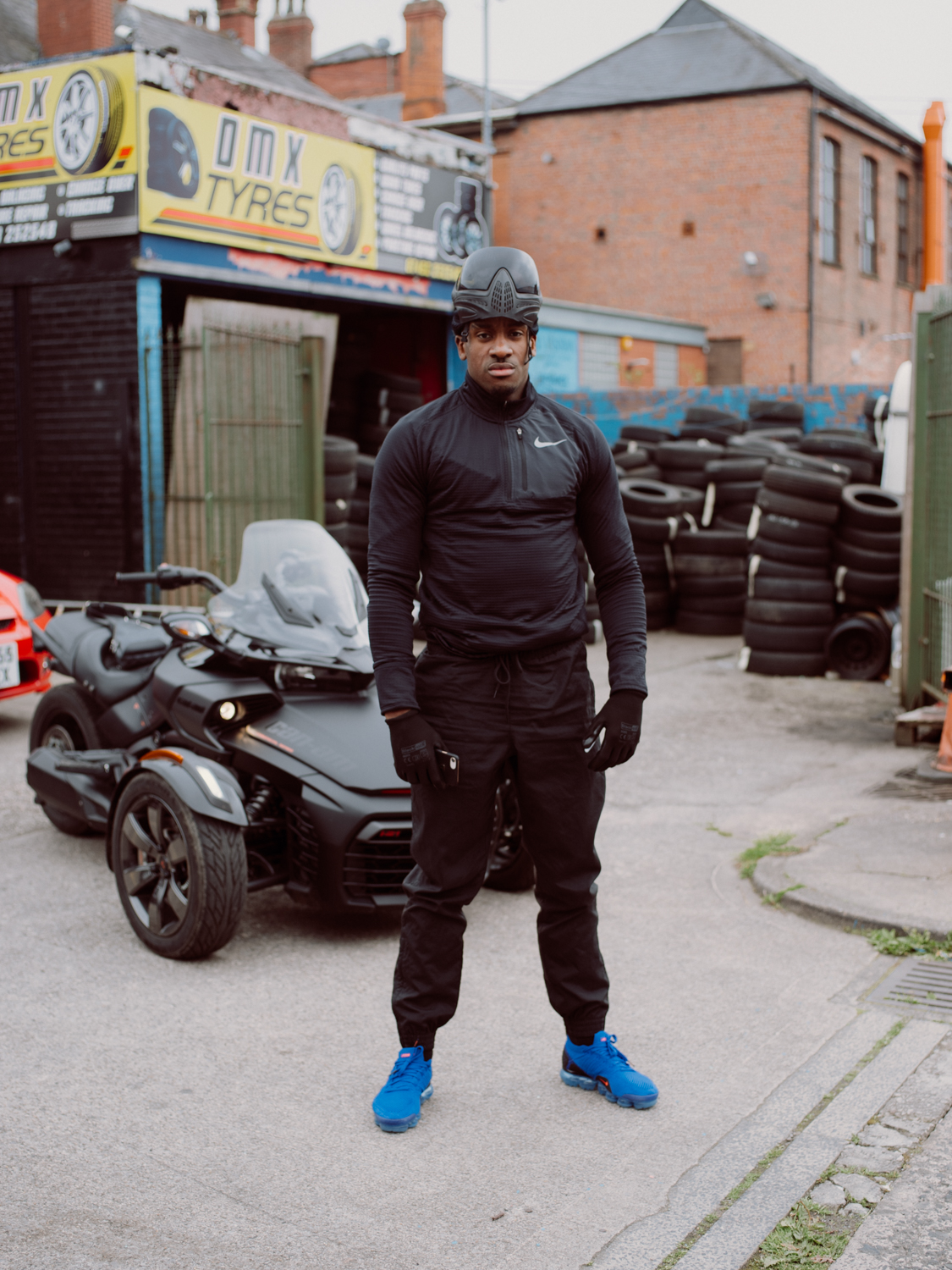 What's the story behind your White Shirt Project entry?

The come-up, man! I've taken inspiration from my musical journey and that reflects my come-up from the street to success in general. The '0161' dialing code is a homage to my hometown, while the artwork and images reference early work that featured the people and the places that made me the person that I am today. The whole Nike White Shirt project is about being fearless in your approach of going where you want to go and showing youngsters of today that if you believe in yourself, you can do anything.

How important has fearlessness been in chasing your career?

Very important, without being fearless none of this happens. There needs to be a ruthlessness in the pursuit otherwise the first sign of a challenge and you just give up!

Do you think sport and music are similar in terms of mentality and the attitude it takes to succeed?

I see it as that, but I think a lot of artists just see it as 'ok, I'm doing music now, I'm an artist, so it just means I can drink, and kinda mess about not take things seriously, and eat rubbish' – but I don't see it like that, man! I see it as an opportunity to change your life and make sure you're set for life so it needs to be taken as seriously as any job so I bring my sporting mentality over to this music thing, 100%.

How important was football in your community growing up?

It was very important man, we used to go and play at the subway tunnel at the bottom of my mum's street and this was when they had those incredible Nike adverts with players like Edgar Davids in amazing Nike kits, it was mad! We would replicate that wherever we were, we'd replicate that whole vibe!

How important are your origins and community values in terms of shaping your life and work today?

I've come from an area where people's parents aren't so financially secure, so I link my origins to that struggle. I think that struggle is a massive part of where I am today because when you've experienced struggle it helps you drive to become a success at anything.
The 11 designs that have been created for the White Shirt Project will be featured as part of an exhibition from May 25th – 31st in the Cube at on display at Nike Town London.