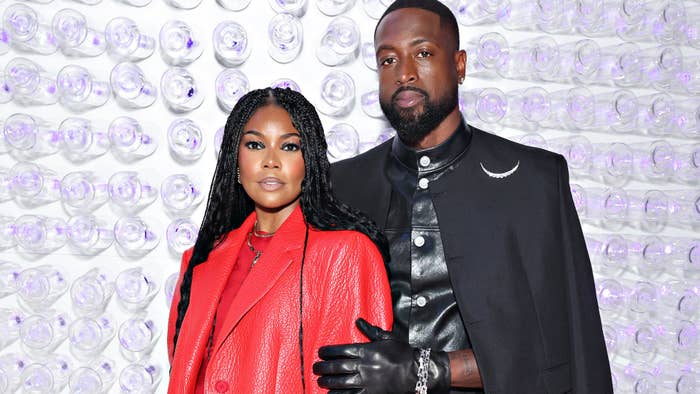 Gabrielle Union's recent comments about the inner workings of her and Dwyane Wade's marriage has been a hot topic for weeks now.
The former NBA player sat down with Shannon Sharpe to discuss how he and Union handle their financials—like it's any of our business.
Wade shared that he and Union signed prenups. "I told her the same. … I'll sign a prenup too," he said. "You a millionaire; you got money. You work hard for yourself."
"But what I don't wanna do is—if she decide to move on from me, she got 200 and I got 10. Because I been spending all my money on all these dance recitals, all these games, all these trips, everything. … 'Oh, a man take care of everything.' I do," he explained. "I take care of my mama, I take care of my daddy. … [My wife and I] go on trips, we go on all this stuff. Y'all see the big trips. My wife will put on big trips—it's a whole calendar year where I have to step in and I have to make sure that the relationship is spicy and it's sexy. … My credit card gets used through everything."
The 41-year-old also shared his perspective on the 50/50 remarks that Union originally made last month—something he had yet to comment on.
"It's think pieces going around about me as a man," he said. "The whole 50/50 concept—I understand what 50/50 means. 50/50 means that everything in life, you got your half and I got my half. We gonna put this shit together, try to make 100. That's how 50/50 goes—that's not how our relationship works."
"First of all, let's say I have 20 to 50 responsibilities and my wife have 20 to 50 responsibilities. When I say that, that means she has a mother, she has her sisters, she has her dad, she has a lot of things that she's responsible for. You know what she does? She pays 100 percent of that. You know what I do? I pay 100 percent of my life."
He continued, "When our life come together, my wife is a working actress who spends time away from the family to go work, build. We decided together—because I think I said one time when we was in Miami, I said something about it being my house that I pay for. My wife looked at me like, 'You will never say that to me again when it's something that we share.'
"So when we moved to LA, I got half on it. 'You will never say my house again.' She said, 'You can say that in the arena.' So, in our life, our home, 50/50 we purchase it together. Our daughter … 50/50, we share it together."
He added, "We probably share three things in our life that we 50/50 on. Everything else, I'm 1,000 percent and she's 1,000 percent."