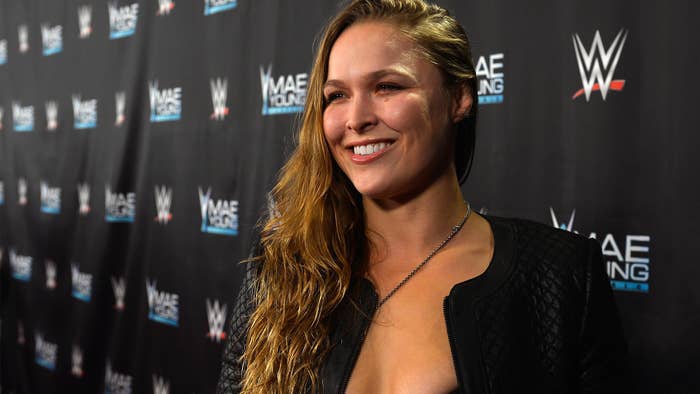 Ronda Rousey secured a big win in her much-anticipated return to professional wrestling.
The former UFC champ came out victorious in the 2022 women's Royal Rumble match, which went down Saturday night at The Dome at America's Center in St. Louis. Rousey was one of the final entrants in the 30-women showdown at No. 28, in which she ultimately defeated Charlotte Flair for the win. 
The "Baddest Woman on the Planet" is now headed to WrestleMania 38, where she will go head-to-head with either Raw Women's champion Becky Lynch or SmackDown's champion Flair.
This year's Royal Rumble marked Rousey's first WWE appearance in nearly three years. In 2020, the 34-year-old announced she was stepping away from wrestling to spend more time with her family. Fast-forward to September of last year, when she and her husband, Travis Brown, announced the birth of their baby girl, La'akea Makalapuaokalanipo.
Rousey made her WWE debut after the first-ever women's Rumble match in 2018, facing Triple H and Stephanie McMahon in a tag-team match at WrestleMania 34.
Rousey will also return to Raw on Jan. 31.