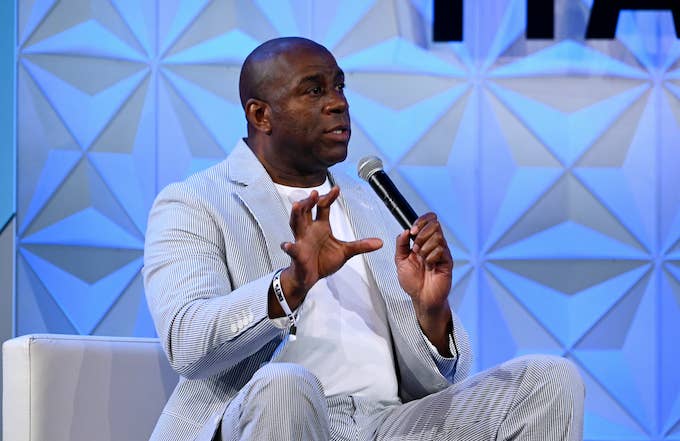 Magic Johnson's hopes remain high. 
On Saturday, the NBA legend appeared at the 2019 BET Experience Genius Talks, where he shared his predictions for the Lakers' 2019-20 season. Johnson, the franchise's former president of basketball operations, reiterated his confidence in Los Angeles star LeBron James and the newly signedAnthony Davis. 
"LeBron is still, you know, the best in basketball," he told Jemele Hill. "And I think that when you put another superstar with him, an Anthony Davis, both of them will allow each other now to really play their game and dominate, because what happens, the floor will open up. And LeBron is such an incredible passer and driver, and he always makes his teammate better. So look for Anthony really to have probably one of his greatest seasons [...]"
Johnson reportedly played a role in the Lakers' blockbuster deal to acquire Davis in exchange for three first-round picks and three players: Lonzo Ball, Brandon Ingram, and Josh Hart. In a recent interview with the Los Angeles Times, Johnson claimed he had urged Lakers co-owner Jeanie Buss, general manager Rob Pelinka, and adviser Kurt Rambis to secure the deal.
"I'm still going to be right there and I'm still going to be calling and giving them notes," Johnson said. "I told them that this trade could be great for the next 10 years for the Lakers. That's what I sent in the note.'"
Though Johnson's stint with the team was pretty rocky, he told the Times there were no hard feelings.
"Listen, all that stuff is past us. I have prayed on that and moved past being mad or upset. I want us to win, so that's why I was sending notes," he said. "I wanted us to make this trade because I knew this was a great trade for both teams. The Pelicans got three young talented guys and they got a great pick at No. 4 and two other first-round picks so it was a great trade for them, too."
Check out other clips from Johnson's Genius Talks appearance below. 
This honestly almost brought me to tears. I am blessed and so grateful. Magic was the player who made me love the NBA!

https://t.co/RoMYV1Ya1e