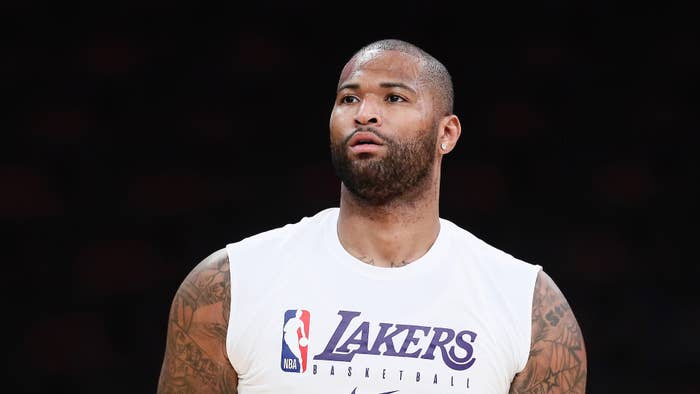 DeMarcus Cousins' time with Lakers has reportedly come to an end. 
On Friday, ESPN's Adrian Wojnarowski and Ramona Shelburne reported that the Los Angeles Lakers will waive the four-time All-Star, who signed a one-year, $3.5 million contract with the franchise back in August. 
A month after joining the Lakers, the 29-year-old center sustained a torn ACL during an off-season workout in Las Vegas. The injury forced the oft-injured Cousins to the sideline once again, and he has yet to play a single game for Los Angeles. What makes this announcement especially baffling is that Lakers coach Frank Vogel recently told reporters there was still a chance Cousins would return to the court before the end of the season.
"He's on track to get healthy by the playoffs, and we'll have to see where he's at with rhythm and conditioning and timing and all that stuff," Vogel said Saturday. "But there's a possibility he returns this season, yes."
That seems increasingly unlikely. News of the waiver came shortly after the Lakers reportedly reached a deal to sign Markieff Morris after he agreed to a buyout contract with the Detroit Pistons. Cutting Cousins would clear room for Morris, who is averaging 11.0 points, 3.9 rebounds, and 1.6 assists per game while shooting at 45.0 percent from the floor and 39.7 percent from three-point range.
As ESPN's Bobby Marks points out, the Lakers can still use the $1.75 million disabled player exemption that they received shortly after Cousins' injury. The money—which can only be rescinded if the injured player is traded or returns to the court—can be used to sign a free agent before the March 10 expiration.
Marks reports that Cousins will likely be waived Sunday night, assuming Morris clears waivers. 
Despite reports of his Lakers split, Cousins has seemingly remained in good spirits. He was spotted at the Staples Center giving hugs to team staffers ahead of Friday night's game against the Grizzlies. Video also showed him sitting courtside and doing his usual pregame work out. 
Of course, news of Cousins' sudden dismissal made waves.