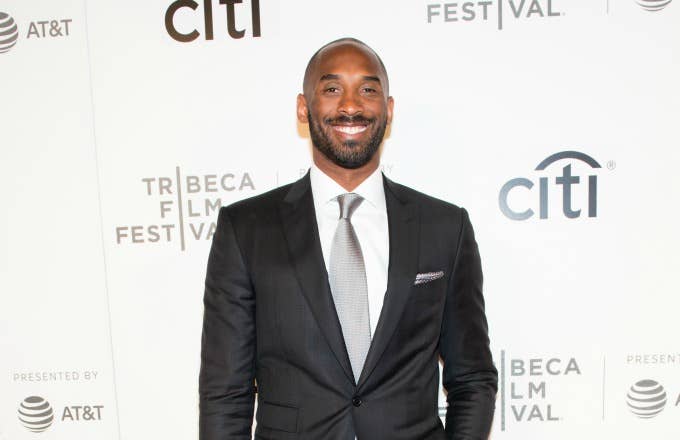 During a press run in support of his new short film, Dear Basketball, in April, Kobe Bryantrevealed that he doesn't miss playing basketball at all. Even though it would only be natural for him to miss the game after spending 20 years playing in the NBA, it sounds like he's moved on with his life and found other things to fill his time.
But that doesn't mean that Kobe has completely turned his back on basketball. During the Celtics' playoff series against the Bulls, Boston guard Isaiah Thomas revealed that Kobe watched game film with him following Game 2 and shared some advice. Thomas talked to Kobe about how to shake free from Chicago defenders, and Kobe pulled up some film and watched it with Thomas to give him pointers.
And as it turns out, Thomas is far from the only NBA player to come to Kobe for advice. ESPN.com published a piece on Kobe on Wednesday morning that outlines how he has helped a handful of NBA players this season. At the start of his career, Kobe remembers Michael Jackson telling him that he should take the time to reach out to NBA legends to get advice from them. He responded by calling on Michael Jordan, Kareem Abdul-Jabbar, Jerry West, Magic Johnson, and more for help. And now, he's doing the same thing by imparting wisdom on Thomas, Kyrie Irving, James Harden, Russell Westbrook, Gordon Hayward, and others.
"I'm around for all the guys," he told ESPN.com. "Anybody can reach out. It's an open book."
We doubt that anybody can really reach out to Kobe. He's probably not picking up the phone for the 13th man on the Magic or 76ers bench. But Kobe said was "happy to help" Thomas and doesn't mind taking time to tutor the guys who have the "courage" to call on him for help.
"I did the same thing with Michael Jordan when I was a young player," he said.
In addition to talking about helping current NBA players, Kobe also spoke about the 2017 NBA Playoffs, which have been pretty boring thus far since it appears as though the Cavaliers and Warriors playing in the NBA Finals is a foregone conclusion. And while many people—us included—have complained about this year's postseason, Kobe said it's not necessarily a bad thing to have two teams like the Cavaliers and Warriors dominating everyone else.
"Why is that bad for basketball?" he asked. "That makes no sense. Just because it's preordained that's a bad thing? I know I'm going to wake up in the morning. Is that a bad thing? I don't think it is."
You can see what else Kobe had to say about life after basketball and helping NBA players here.