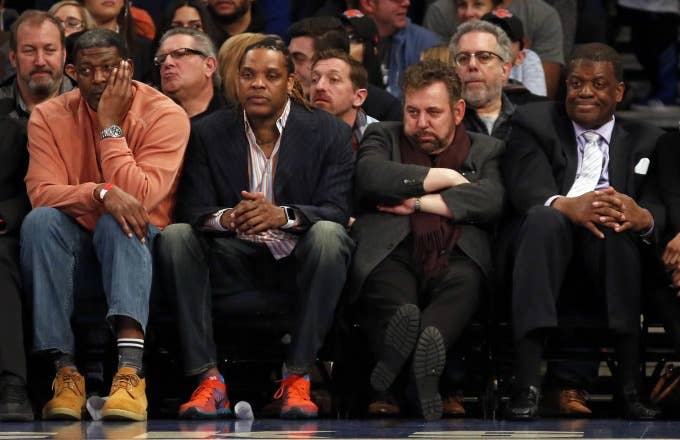 On the surface, most people would probably hate to be James Dolan right now. Just about everyone hates the Knicks owner after what took place with Charles Oakley earlier this month, and even if that situation hadn't played out the way it did, Dolan's team has still been in total disarray for the better part of the last…well, who can even keep track anymore? The Knicks stink and don't have a very bright future.
But despite the obvious dysfunction surrounding the Knicks organization, Dolan & Co. (but mostly Dolan!) do have one thing to celebrate: According to Forbes, the Knicks are the most valuable franchise in the NBA in 2017, and somehow, they're actually worth 10 percent more this year than they were at the start of 2016. Forbes estimates the team's value to be $3.3 billion, making them the most valuable team for the second year in a row.
So how are the Knicks so damn valuable? Forbes reports it has a lot to do with the $1 billion renovation the team did to Madison Square Garden. It opened up new streams of revenue through both sponsorships and seating and helped the franchise turn a $141 million profit last season, even though the team went just 32-50. The team's value also has a lot to do with a local cable deal it signed with MSG that paid out $100 million in the first year of the deal.
So yeah… joke's on you, Knicks fans! While you're busy complaining about Phil Jackson, Carmelo Anthony, and any number of other things that have resulted in the Knicks stacking L on top of L, Dolan is breaking the bank.
Forbes listed the values of the other 29 NBA teams as well. Here are the teams that rounded out the top 10:
Go here to check out the rest of the Forbes list.