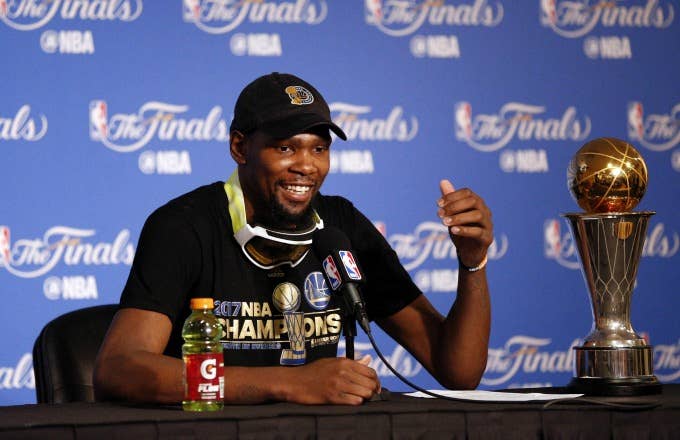 But that didn't stop him from spending about an hour and a half speaking with Simmons about everything from his initial thoughts after winning the NBA Finals to the huge shot he hit at the end of Game 3 to give the Warriors a 3-0 lead over the Cavaliers. He also gave props to LeBron James and Kyrie Irving throughout the course of the podcast—most notably, KD said he thinks Irving has "more skill" than Allen Iverson—and he spoke about how silly it is to try and compare NBA teams from different eras.
One of the most interesting parts of the interview, though, came around the 43-minute mark when Simmons asked KD to tell him about the most surprising text he received in the 24 hours following the end of the Finals. KD revealed that President Obama got in touch with him and dropped a "random" compliment on him.
"He sent a text through somebody to get to me," he said. "[He wrote], 'Congrats, your defense was really good,' which was random."
KD said Obama also told him to "enjoy" the victory. "Have some fun," KD said. "Typical stuff…I wasn't expecting that."
A short time later, Simmons asked KD if LeBron James stan Rihanna had reached out to him after watching the Warriors win the title. Not surprisingly, he said he hadn't heard from her.
"She loves LeBron," KD said. "She's been a big LeBron fan for a long time. Everywhere he went, she's just a big fan. I don't even really think she really watches basketball."
Ouch. Was that one last burn from KD to Rihanna to end the season? Sure sounded like it.
You can listen to KD's entire Bill Simmons Podcast appearance in the clip above.