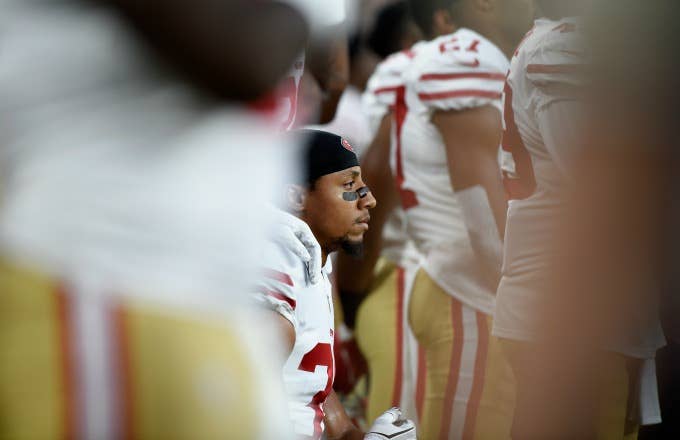 When former 49ers quarterback Colin Kaepernick decided to start taking a knee during the national anthem before games last preseason in a sign of protest, one of his biggest supporters was his then-San Francisco teammate Eric Reid. Kaepernick kneeled during the anthem on his own prior to several preseason games before Reid and 49ers linebacker Eli Harold eventually joined him. Reid and Harold then continued to kneel with Kaepernick during the anthem throughout the entire 2016-17 NFL season. And while Reid, Harold, and Kaepernick are no longer teammates, Reid has continued to stick by Kaepernick's side by attending several of his "Know Your Rights" events in cities like New York City and Chicago. He has also reportedly maintained a close relationship with Kaepernick even though they aren't playing for the same team anymore.
But in the weeks leading up to the 2017 NFL preseason, Reid told reporters that he would not continue to protest the national anthem during the upcoming season like he did last year. As recently as Aug. 14, he said that "the anthem thing went so sideways," and while he acknowledged that he was going to continue to talk about important social issues, he said that he would not kneel during the anthem before games this season. However, it appears as though he changed his mind, because prior to the 49ers' preseason game against the Vikings on Sunday night, Reid was spotted kneeling as a large group of his teammates surrounded him in a show of support.
And after the game, Reid revealed why he decided to continue his national anthem protest in spite of what he said earlier this summer. He suggested that his recent conversations with Kaepernick as well as what happened in Charlottesville, Virginia recently may have played a role in it.
"I just had a change of heart," Reid said, according to ESPN. "A lot of thinking, a lot of praying, talking to Colin. When we started last year, if you recall, our goal was to raise awareness and shed light on the issues that were happening in our country. I think we accomplished that. What I was upset about was the false narratives that were being told about us, people were saying we're un-American, that we're against police entirely and the military. And that just wasn't true. At first, I thought that was a small sacrifice to pay to get the word out to raise awareness, and I settled with thinking that raising that awareness was victory."
Reid continued: "Then fast-forward to Charlottesville, and the country sees what an un-American protest really looks like. That's when I had my change of heart, because what Colin, Eli, and I did was a peaceful protest fueled by faith in God to help make our country a better place. And I feel like I needed to regain control of that narrative and not let people say that what we're doing is un-American, because it's not. It's completely American. We're doing it because we want equality for everyone. We want our country to be a better place, so that's why I decided to resume the protest."
Reid is the first 49ers player to kneel during the national anthem during the 2017 preseason. In addition to explaining why he did it on Sunday night, he also spoke about how he believes his protest could potentially hurt him next year when he becomes a free agent. And he said that he's not going to let it affect what he's doing.
"This has been fueled by my faith in God," Reid said. "That's the only reason I do it. You can't serve faith and money. So if I'm not on a team next year, I'll be at home unhappy that I'm not on a  team, but I'll be satisfied knowing that I did what I believe is right—and that's being the voice for the voiceless and standing up for the oppressed."
Kaepernick responded to Reid kneeling on Sunday night by retweeting the clip above of him talking about why he did it.