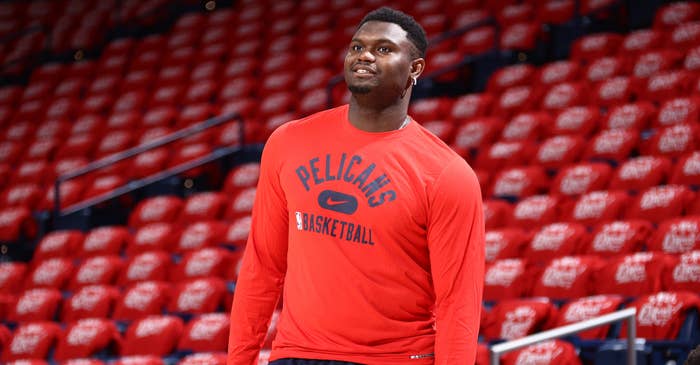 Arizona Cardinals quarterback Kyler Murray isn't the only superstar with a questionable clause in his new contract. 
According to a report from NOLA.com, Zion Williamson's new 5-year, $193 million contract, which could possibly worth up to $231 million, stipulates that the Pelicans star will have weigh-ins periodically throughout the entirety of his deal.
"The sum of his weight and body fat percentage must be under 295, a source confirmed to The Times-Picayune," Rod Walker writes. "If he doesn't meet that, the guaranteed money in the contract he signed on his 22nd birthday can be reduced."
NOLA's Christian Clark noted that Zion has been working with Christian Green, who is his private chef. 
"Definitely getting him in tiptop shape," Green told NOLA. "My boy says he wants the league MVP this year. I see it. I believe it. I believe Zion is going to be the face of the NBA once LeBron James retires. I believe it. I see it. Just getting him in great health. He's in great health now. But once the season starts, he's going to be in even better health."
Back in February, a parade float at Mardi Gras poked fun at Zion, depicting Williamson as  overweight and wearing a jersey that read "1 Ton" on it. The float also featured Zion holding a sandwich in one hand and cash in the other with a speech bubble that read, "I'm hungry."