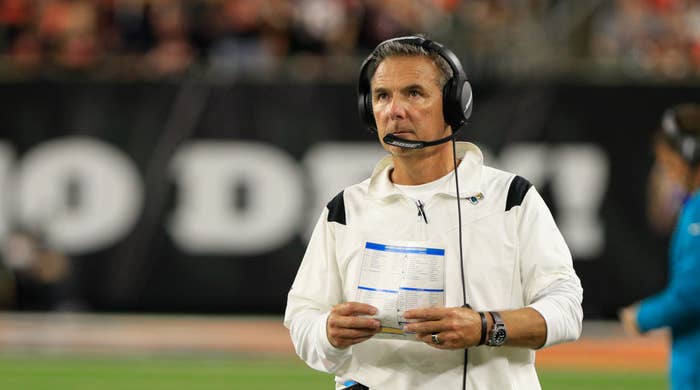 More than three months after Urban Meyer was fired by the Jacksonville Jaguars, new details continue to emerge highlighting the much-maligned coach's troubled tenure in Jacksonville.
A new report from Jayson Jenks and Mike Sando of The Athletic sheds light on the "toxic environment" within the organization. Among the incidents highlighted in the report was an instance in which Meyer "berated a player so harshly that the player cried."
Per the report, it occurred during a meeting with coaching and personnel staff. According to two sources, Meyer "slammed the door after departing the meeting, leaving others to console the player." Meyer was then confronted about the incident which led to a "tense exchange."
Another story describing Meyer's humiliation of players took place following a preseason game during which a player had missed an assignment. Meyer took his frustration out on a group of players by suggesting they weren't capable of holding a job outside of football.
"And do you know what would happen if I cut you guys?" Meyer said, according to four people in the room. "You couldn't get a job paying more than $15 an hour."
"I lost all respect for him after that," one veteran player told The Athletic.
Perhaps the most surprising anecdote in the report reveals that Meyer was seemingly unaware of arguably the league's best player, three-time NFL Defensive Player of the Year Aaron Donald.
"Who's this 99 guy on the Rams?" he asked one staffer during the season. "I'm hearing he might be a problem for us."
Back in December, Meyer was fired by the Jaguars after posting a 2-11 record over 13 games in Jacksonville. 
"After deliberation over many weeks and a thorough analysis of the entirety of Urban's tenure with our team, I am bitterly disappointed to arrive at the conclusion that an immediate change is imperative for everyone," owner Shad Khan said in a statement. "I informed Urban of the change this evening. As I stated in October, regaining our trust and respect was essential. Regrettably, it did not happen."
Khan added, "In the spirit of closure and recharging our players, staff and fan base, I will not comment further until some point following the conclusion of the NFL season."