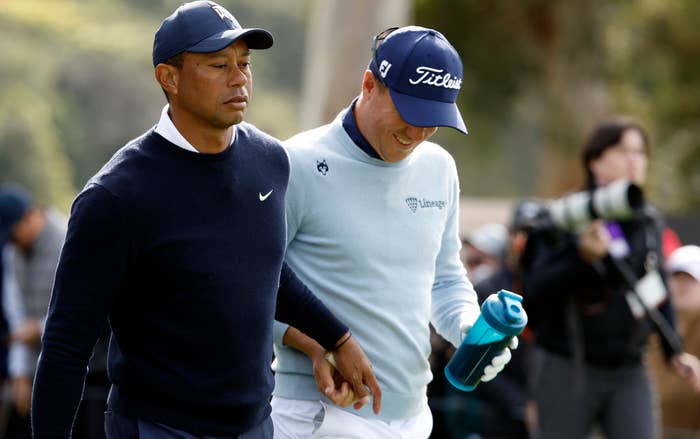 UPDATED 2/17/23, 6:35 p.m. ET: Tiger Woods has apologized for his tampon stunt.
"It was supposed to be all fun and games and obviously it hasn't turned out that way," Woods said on Friday. "If I offended anybody... it was not the case, it was just friends having fun. As I said, if I offended anybody in any way, shape or form, I'm sorry. It was not intended to be that way."
See original story below.
Nearly a year after his last appearance on the PGA Tour at the 2022 British Open, Tiger Woods returned to golf this week at the Genesis Invitational at Riviera Country Club.
During the first round of the event on Thursday, Tiger participated in a bizarre exchange with fellow player Justin Thomas. After Woods, 47, outdrove the 29-year-old Thomas on the ninth tee, photographers captured Tiger slipping a tampon in Justin's hand. 
Thomas immediately dropped it on the ground, as Tiger threw his arms around Justin's shoulder in an effort to combat the awkwardness.
While some people on social media are calling out Tiger for his sexist joke, the 15-time major championship finished the round tied for 27th place with two-under-par 69.
While speaking with Woods following his match, reporters failed to bring up Tiger's odd interaction with Thomas. Instead, they let the legendary golfer discuss his performance.
"It was nice that I had this unbelievable pairing, two great guys, two great friends," Tiger said about Thomas. "It was a great round. The ebb and flow of needling each other, encouraging each other and telling stories.
"I hadn't been out here, so I've missed some of the things that have transpired on Tour, which is kind of fun."