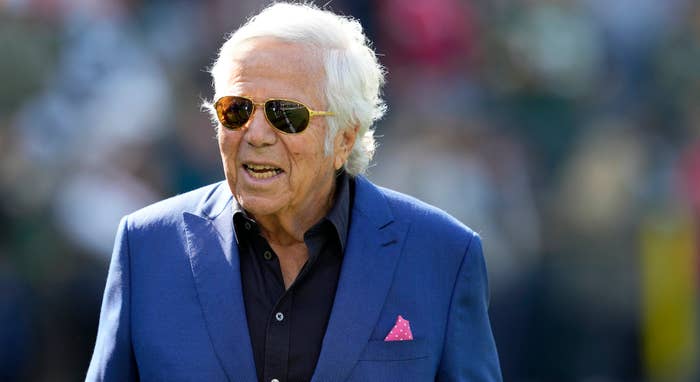 Patriots owner Robert Kraft is displaying his generosity after a New England fan was shown getting mocked in a viral video.
Jerry Edmond, who was in Las Vegas last weekend for the Raiders-Patriots game, went viral after footage showed him getting heckled by a Raiders fan.
"I'd like to thank everyone for all the kind words," Jerry said in a follow-up Tweet. "I'm the Patriots fan in the video. My name is Jerry Edmond and that was my first ever NFL game. I didn't want to ruin my experience by retaliating towards that woman so I kept my cool."
While speaking with NBC Boston, Edmond explained how he remained cool in that moment of hostility.
"At first I didn't fully understand what she was saying, I kind of just brushed it off and let it go," Edmond said. "My best bet is just to kind of sit here and ignore you."
"I was more focused on how we lost that game," Edmond deadpanned, referring to the Patriots losing the game on a last-second play.
For displaying class in the face of adversity, Edmond has been gifted two tickets to Saturday's Patriots game, as well as a custom jersey and two field passes to watch pre-game warm-ups. 
"I think you represented our brand in a very classy way," Kraft told Edmond in a message. "I love to see that you stayed true and first-class in an environment that could have been provoking."