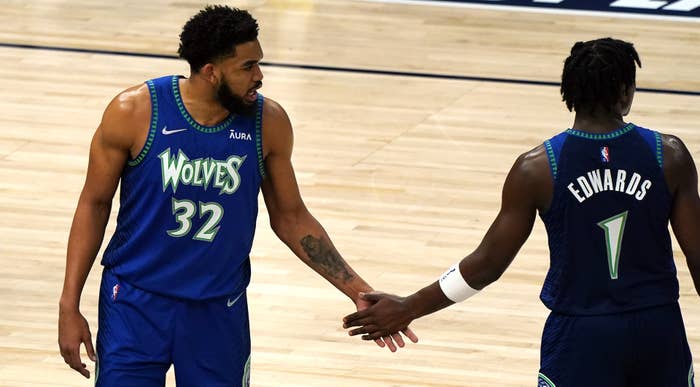 UPDATED 10/26, 9:50 p.m. ET: Popeyes got in on the conversation Wednesday night, tweeting from its official account, "Good luck to every high level athlete who eats Popeyes regardless of what their teammates say 🏀."
Reactions to the subtweet were swift:
See original story below.
After losing to the San Antonio Spurs on Monday night, Minnesota Timberwolves star Karl-Anthony Towns took a moment to criticize teammate Anthony Edwards' diet, saying he could do a "better job" helping the young guard in regards to taking care of his body.
When asked about Edwards' subpar performance against the Spurs, and if he could be better prepared to handle back-to-back games, Towns mentioned Edwards' habit of joking about his diet, which apparently includes frequent stops at Popeyes. 
"Maybe I could do a better job of teaching him how to take care of his body, diet and everything," Towns shared. That'll be on me. I know you all think it's funny up here when he talks about Popeye's and all that shit. That doesn't make me happy to hear. We're high-level athletes," Towns said. "But also, that falls on me too, you know. The old cliche, falls on you. Everyone wants to take the blame, but it's on all of us."
Edwards' love of Popeyes is well-documented. Back in January 2022, Minnesota beat writer Dane Moore asked Ant if he's capable of removing Popeyes from his diet.
"That's hard," Edwards admitted. That's the hardest thing to do."
However, Moore reports that Edwards entered this season having shed nine pounds, while also trimming himself down to nearly seven percent body fat.