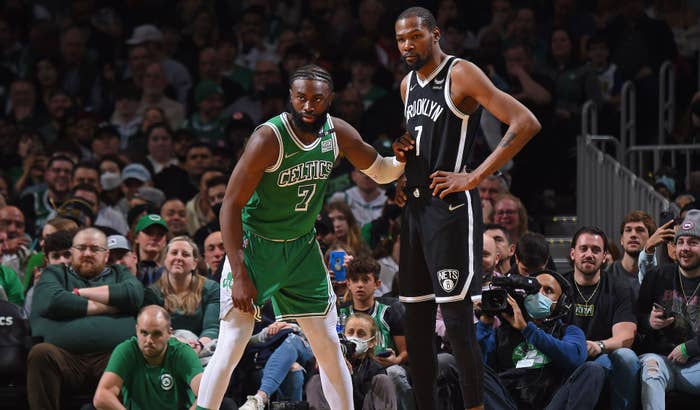 Nearly a month after Kevin Durant's trade request sent the NBA offseason into a frenzy, the Boston Celtics, who swept Brooklyn in the first round of the 2022 NBA Playoffs, have emerged as a team that could acquire the Nets superstar.
According to Shams Charania, the Celtics offered a trade package that included All-Star Jaylen Brown, which was rejected by the Nets.
"The Celtics offered Brown, guard Derrick White and a draft pick to the Nets for Durant," Charania wrote. "The proposal was rejected, and Brooklyn has asked Boston — in any proposal — to include Brown, Defensive Player of the Year Marcus Smart, draft picks and potentially one more rotation player, those sources added."
Shortly after Charania's report, Brown took to Twitter to seemingly react to the report, writing, "Smh."
Back in June, Durant requested a trade just a few days after Kyrie Irving decided to exercise his player option to return to the Nets next season. At the time, Woj reported that Brooklyn's front office hadn't had any contract with either Irving or KD since the former announced he was opting in on June 27.
"Kevin Durant and Kyrie Irving had no contact with the franchise after Irving opted into his deal on Monday, and a sense of inevitability existed that Durant would eventually ask for a trade, sources tell ESPN. It happened today," he wrote on Twitter.
According to Woj, the Miami Heat and Phoenix Suns are among the teams on KD's wish list. 
"The Nets plan to move Durant where they can get the best possible deal," Woj said. "With four years on his contract, there's no shortage of teams willing to unload assets for Durant."