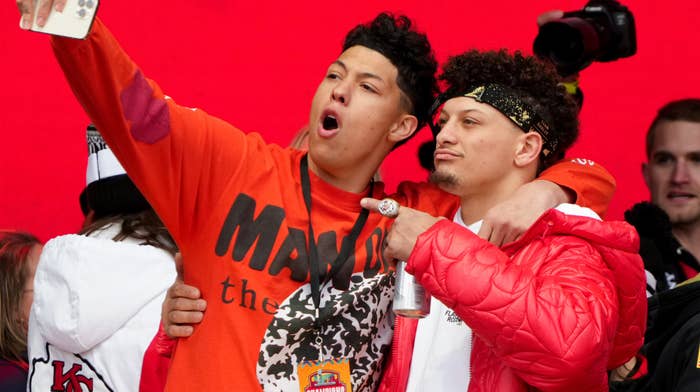 Jackson Mahomes, brother of Kansas City Chiefs quarterback Patrick Mahomes, is being investigated by police over allegations that he assaulted a waiter and restaurant owner.
The Kansas City Star reports the incidents took place last weekend at the Aspen Restaurant and Lounge in Overland Park, a suburb of Kansas City. Jackson, 22, a frequent guest at the restaurant, is accused of shoving a 19-year-old male waiter multiple times, in addition to forcibly kissing the restaurant's 40-year-old female owner. The second incident was captured on security cameras, and can be seen in the below tweet.
The restaurant's owner, Aspen Vaughn, spoke with the Star about what transpired, calling Mahomes' actions "unwelcome and shocking."
"He forcibly kissed me out of nowhere," Vaughn said, "and I'm telling him, pushing him off saying 'what are you doing?' and then he proceeded to do it two more times where the last time I was pushing him off and I can see on the cameras that somebody was outside the office door and I was yelling for them to come help because he's big and massive."
Mahomes' attorney has denied the accusations in an official statement.
"Jackson has done nothing wrong," Brandan Davies said. "Our investigation has revealed substantial evidence refuting the claims of Jackson's accuser including the statements of several witnesses. We have reached out to law enforcement to provide the fruit of our investigation so that they may have a complete picture of the matter."