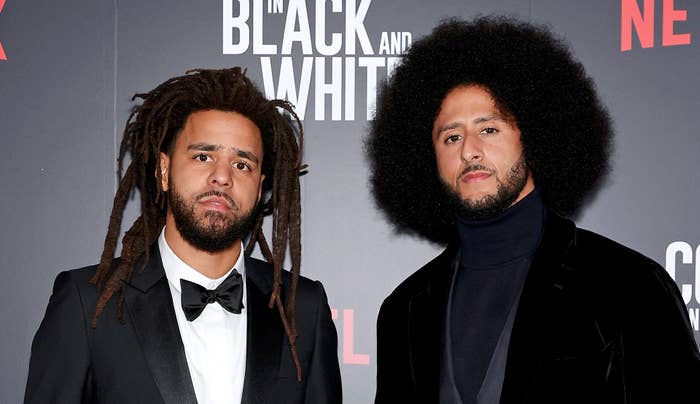 J. Cole has shared a letter from Colin Kaepernick in which the former NFL quarterback reasoned why he's a good fit to join the New York Jets practice squad after the team lost its starting quarterback Aaron Rodgers to a season-ending injury in Week 1 against the Buffalo Bills.
Cole hopped on Instagram on Tuesday to post a screenshot of the letter, which Kaepernick sent to Jets general manager Joe Douglas in the hopes he'd let Kaep join the team.
Back in 2016, Kaepernick was released by the San Francisco 49ers one year after taking a knee during the U.S. national anthem in 2016 to protest racial injustice. The 35-year-old hasn't played in the NFL since. Prior to leaving the NFL, Kaepernick helped lead the 49ers to back-to-back NFC Championship Game appearances, in 2012 and 2013, while carrying the team to the Super Bowl XLVII, which they lost to the Baltimore Ravens.
Despite his age, Kaepernick's prowess at the quarterback position would surely help the Jets, which Colin points out at the beginning of his letter to Douglas.
"I am sure of my ability to provide you with an elite QB option if, God forbid, QB1 goes down," he wrote. "However, I know that there may naturally be uncertainties from you and possibly from others about my playing abilities. This plan, I believe, allows me to be of great service to the team as a practice squad QB, while also giving you a low-commitment chance to assess my capabilities to help in any other capacity as you may see fit."
Kaepernick continued by reassuring the Jets GM that he'd be "honored and extremely grateful for the opportunity to come in and lead the practice squad."
"Worst case scenario, you see what I have to offer and you're not impressed," he said. "Best case scenario, you realize you have a real weapon at your disposal in the event you ever need to use it."
Kaepernick concluded his letter by reminding Douglas that he "never retired or stopped training," before expounding on a training schedule that has remained the same for six years and includes a nine-hour, five-days-a-week regimen on the field and in the weight room.
J. Cole spent his caption campaigning for Kaepernick, adding that the former star quarterback was reticent to allow Cole to "share this letter with the world."
"I asked Colin @kaepernick7 if I could share this letter with the world. He was reluctant," Cole wrote. "My argument was that I believe the people and all organizations should know the truth about how hard he works and how much he still wants to play. And always has. In the end, he agreed to let me."

The North Carolina rapper/producer concluded, "I wish the @nyjets organization luck. My boy @bas is a big ass fan so I saw the heartbreak of every Jets fan when Arod went down @richeisen. Everyone from players, to coaches, to execs are feeling the pressure I'm sure. I hope y'all can turn it around, and I hope there's a spot out there for my boy Kap. PEACE."