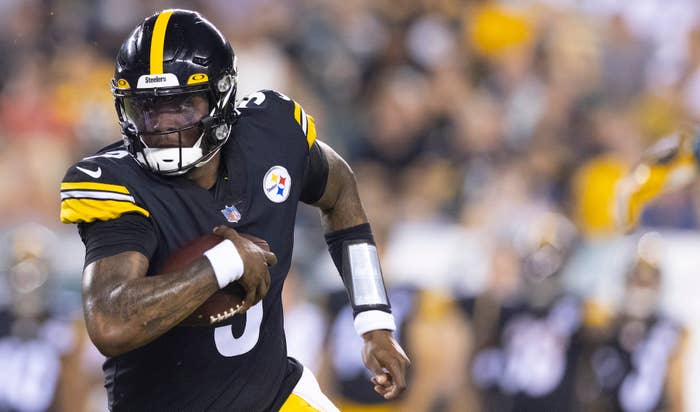 A year after Dwayne Haskins was killed after being struck by a dump truck on a South Florida highway, the NFL quarterback's wife has filed a wrongful death lawsuit against 14 people or entities that she claims contributed to her husband's death.
The lawsuit, filed last month in Broward County, Florida, alleges Haskins "was targeted and drugged as part of a blackmail and robbery conspiracy." 
NFL Network's Ian Rapoport shared a news release Monday from Haskins' attorney Rick Ellsley.
"As to what occurred in the hours before Dwayne was killed, many questions remain unanswered," Ellsley stated. "It is believed that Dwayne was targeted and drugged as part of a blackmail and robbery conspiracy. In fact, his highly-expensive watch was stolen from him shortly before his death."
A medical examiner ruled last year that Haskins, who was hit and killed by a dump truck on Interstate 595 in Florida on April 9, 2022, tested positive for ketamine and norketamine, and also had a blood alcohol level of .24 at the time of the fatal accident. The autopsy ruled the 24-year-old's death as an accident, with his cause of death listed as "multiple blunt force injuries."
"The Florida Highway Patrol Traffic Homicide Report shows that Dwayne was only feet away from making it safely across the roadway when he was struck and killed by an old dump truck," the lawsuit adds. "This truck was going faster than the speed limit, carrying excessive cargo, had brake system problems, and was traveling on low tread tires with separated sidewalls."
Haskins' widow, Kalabrya Haskins, is seeking a jury trial, as well as unspecified damages in relation to the NFL quarterback's death.