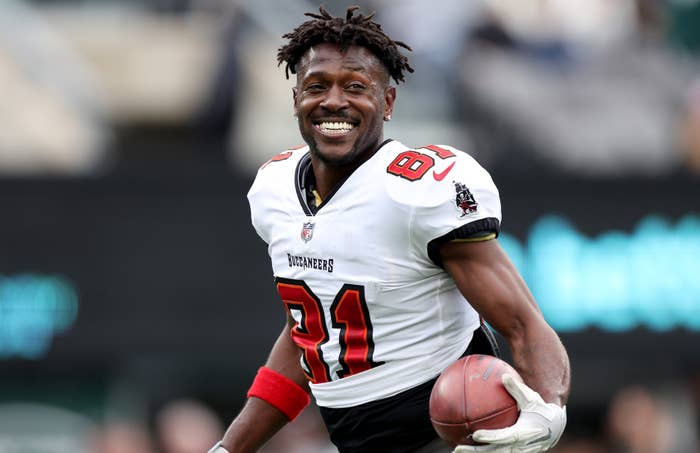 As the first full week of the NFL preseason gets underway on Thursday, Antonio Brown has given the impression he's moved on from his football career. 
The former All-Pro wide receiver, who's been a free agent since he was released by the Bucs in January after walking off the field during Tampa Bay's Week 18 game against the Jets, took to Twitter this afternoon to supposedly share the "biggest regret" of his NFL career.
"My biggest regret in my career doesn't involve calling my GM a 'cracker,' or showing up to Raiders camp late in a hot air balloon with frozen foot, or throwing rocks at that UPS driver, and it definitely doesn't involve taking my shirt off and doing a victory lap around the Jets' stadium mid-game while throwing up deuces," begins the quote—which was evidently a meme rather than his words, and presented as a graphic.
The post continued, "My biggest regret is that I'll never get to see me, Antonio Brown, play a game live. I can watch the game afterwards, but I can't imagine what that was like for you to all see something like that. Like watching the Beatles or Jesus perform at Red Rocks."
Brown himself wrote "Sincerely AB" in the tweet.
Shortly after the post went viral, social media users noticed Brown had merely reshared a parody quote from @thesportsmemery. (Which itself may have reused some words from AB's now-colleague Kanye West.) That said, you'd be hard pressed to find anyone who'd be surprised that AB had written it.
On Twitter, the Sports Memery account wrote, "Man. This is epic. Really appreciate everyone who tagged us. I can die now."