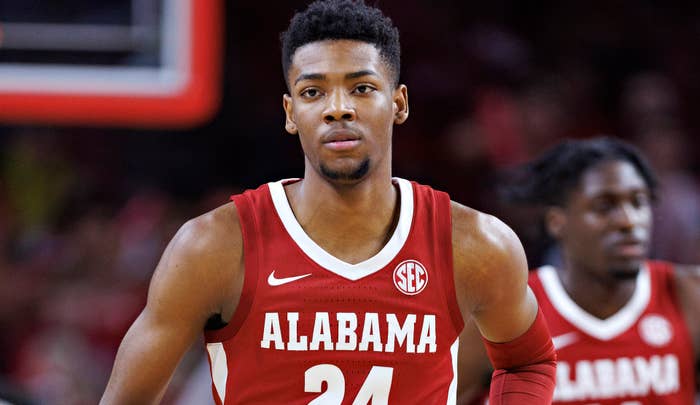 University of Alabama basketball star Brandon Miller allegedly brought the gun used in the fatal shooting of a 23-year-old woman in January.
Back in January, Miller's former teammate, Darius Miles, was charged with capital murder after providing the gun that 20-year-old Michael "Buzz" Davis used on Jan. 15 to kill Jamea Harris near campus.
According to AL.com, Detective Branden Culpepper testified on Tuesday in court that Miles texted Miller to get his gun and bring it to his location. Miles allegedly told Davis, "The heat is in the hat," referring to the gun being present. Miles also mentioned that there was one bullet in the chamber, saying, "There's one in the head."
As for why Miller has not been charged in the killing of Harris, Tuscaloosa chief deputy D.A. Paula Whitley said, "That's not a question I can answer. There's nothing we could charge him with."
Alabama basketball head coach Nate Oats spoke with reporters on Tuesday regarding Miller's involvement in the capital murder case.
"We knew about that," Oats said. "Can't control everything everybody does outside of practice. Nobody knew that was going to happen. College kids are out, Brandon hasn't been in any type of trouble nor is he in any type of trouble in this case. Wrong spot at the wrong time."
The news arrives amid a successful season for Alabama, as the Crimson Tide are currently ranked No. 2 in the AP poll. Miller, a freshman who's expected to be a lottery pick in the 2023 NBA Draft, leads the team in scoring with 18.7 points per game.