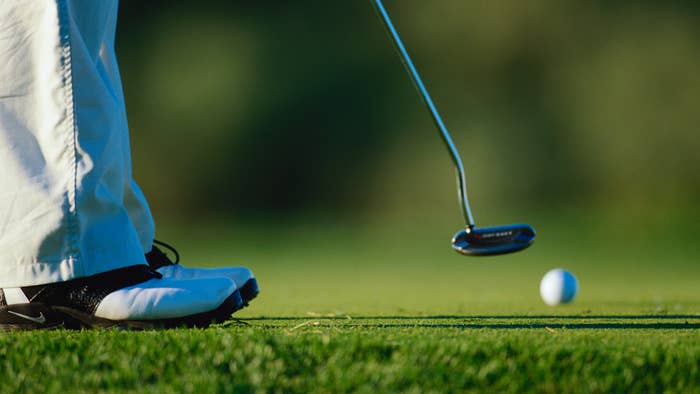 UPDATED 9/22, 4:40 p.m. ET: The golfer who erupted into violent threats following a dispute has been identified and has been banned from the golf course where the incident took place.
TMZ reports that the man has been identified as Ohio man John Reeb, who has had several run-ins with the law in the past. The course where the video was recorded is Crooked Creek in Ottawa Lake, Michigan. Reeb has been permanently banned after the people he accosted reported his behavior.
He's additionally been banned from Cherrywood Golf Club, which the owners of Crooked Creek also own. According to Crooked Creek general manager Heather Ryan, staff have been briefed on John Reeb's behavior and given a photo to make sure he never sets foot on their courses.
See original story below.
In a wild video circulating online, a set of golfers got into a dispute on a course and one of the men got so angry he ripped off his shirt and threatened to throw hands.
In the 1-minute clip, originally shared by @kennethdavis8680 on TikTok, an altercation kicks off after someone behind the camera said, "We got a Karen on the golf course right now." The man, sporting a green short-sleeve shirt with a collar and khaki shorts, appeared to have hijacked another player's golf ball. Several golfers asked him to return the ball, and instead, he crossed his arms and suggested they leave.
"You'll leave after I don't give you a goddamn thing," he told them. "I'm gonna stand here and you can complain." The people behind the camera accused him of stealing someone's ball, but it's unclear why. "I'll plant you, bitch boy," he said as the situation continued to escalate. "Now get the fuck off the cart." He then quickly pulled off his shirt, began to aggressively flex, and yelled at them. "YOU SEE THAT?!" he shouted. "That's a dude that's been to heaven, bitch, and you want to test God? You fucking come get it, shit stack."
One of the women at the scene called him "mentally ill" and suggested they just drive off in their golf carts, which they eventually did. "You think I'm mentally ill?" he asked them as his face got increasingly red. "Been to heaven... leave me alone," he said as they drove off.
It's not exactly the type of serene energy one typically expects from a relaxing game of golf, but the man was clearly upset by whatever happened. His body language reflected that of an I Think You Should Leave character than anyone real.
DJ Khaled, meanwhile, recently opened up about relaxing he finds golf, which he said also helped him lose weight. Green polo guy should consider finding ways to lose some of that pent-up rage, instead.