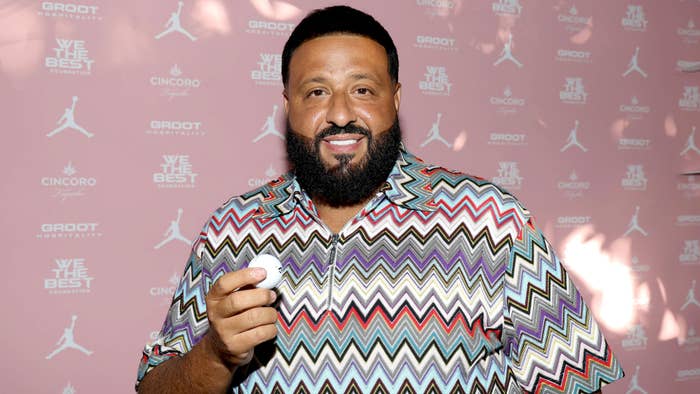 With his new album Til Next Time on the horizon, DJ Khaled has reflected on how playing golf "every day" has helped him with his weight loss journey.
In an interview with Us Weekly to promote his partnership with the Ryder Cup, he said that he's lost over 20 pounds since getting into a routine of playing golf regularly. "I do it every day and I get a chance to sit on the golf cart or walking about to answer an email or a call and handle my business," he explained. "It's so much [more] pleasurable, meaning [being around] the nature, the sun. It cleanses me. It's almost like going in the ocean without going in the ocean."
Khaled added that he tries to play "nine holes or 18 holes" each day, or spend a day at the driving range. "I enjoy it," he said. "I handle my business so well because I'm either out there by myself or if I'm playing with my friends or my business partners." As for how he feels regarding his golf skills, he suggested there's still some work to be done. "It's a never-ending story recall. You just keep getting better," he shared. "Or you might have days where it's just [OK], but while you're [playing] through all that, you still have to find this place called calm."
Additionally, he's hooked his two sons, 6-year-old Asahd and 3-year-old Aalam, on the sport. "They love golf. When they're not in school on the weekends or holidays, they go play golf with dad," Khaled explained. "And that's a beautiful thing to do to be able to play golf with my boys and just kick it." He's so into golf, in fact, he had a putting range built in his backyard. Earlier this year, he also hosted a golf tournament in Miami. He's now sitting at 263 pounds thanks to golf.
The dramatic trailer for Khaled's upcoming album Til Next Time showcased his love of golf, too. In it, he relaxes and plays on a golf course while joined by his sons, who both score a hole-in-one. The trailer ends with him hitting a drive so long it makes it all the way to Europe. As if.