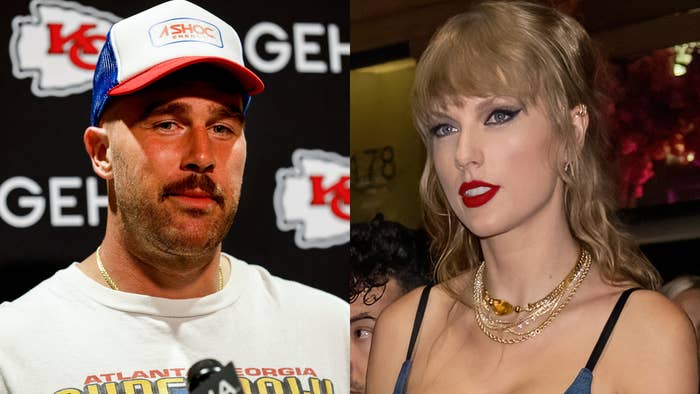 Travis Kelce tipped his hat to the NFL Network's Rich Eisen this past weekend after he used several Taylor Swift references during a pregame analysis of the star.
On Sunday, Eisen used the pregame coverage of the Kansas City Chiefs and Jacksonville Jaguars matchup to have fun at the expense of Kelce. As he was discussing Kelce, Eisen used several Swift song titles to describe the two-time Super Bowl champion.
Eisen shared a post on Instagram featuring a montage of the references.
"Well, even though that bone bruise in the injury one would think is 'Delicate,'" Eisen said. "He's been able to 'Shake It Off.'"
Another clip has Eisen going harder with tSwift references and including even more song titles.
"I should've known that 'All Too Well' that you would not know," he adds.
"You saw it on Thursday night, when Travis Kelce wasn't in there, it left a 'Blank Space,' but I think he returns today and proves to be the 'anti-hero.' Never goes 'Out of Style,'" Eisen also quipped
"Alright there the Chiefs, oh Kelce coming out, 'August' is over now September," he continued.
In the caption, Eisen wrote, "Look what you made me do, @killatrav." Kelce appeared amused, and gave Eisen a salute for the creativity behind the references.
"Well played Rich…. Well played 👏🏻😂," Kelce wrote.
Rumors about Swift and Kelce spending time together have been swirling as of late. A source told The Messenger that the eight-time Pro Bowler and the "Cruel Summer" singer have been "quietly hanging out" lately.
Fans began sleuthing when Page Six reported on Tuesday that Taylor Swift stepped out in New York City with a teardrop-shaped pendant necklace set with an opal, which is also Kelce's birthstone.
Swift has always worn opal stones, but that didn't stop some of her fans to start questioning if there's a new man in her life.
"Kelce is a libra and opal is our birthstone," one Swiftie commented under an Instagram post from @taylorswiftstyled's highlighting the necklace. Another person said, "even though i believe the kelce's [sic] started the dating rumor to promote their documentary… opal is october birthstone and travis was born in october."