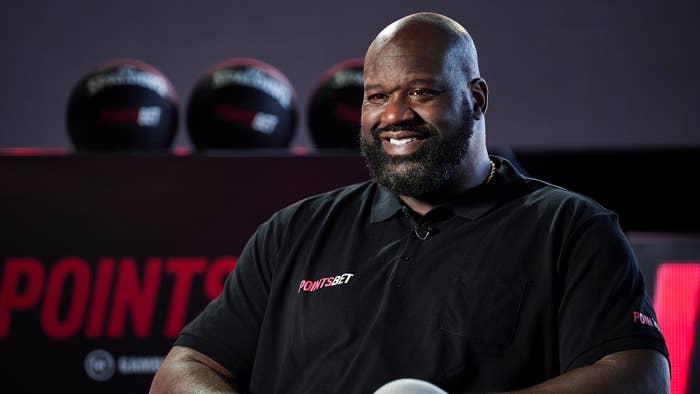 On a recent episode of his podcast, Shaquille O'Neal said that he's not interested in commenting on the Ime Udoka or Adam Levine scandals because he was a "serial cheater" himself.
The topic of Udoka and Levine's alleged infidelity was brought up by Shaq's co-host Nischelle Turner on The Big Podcast with Shaq, but the NBA legend clearly wasn't interested in providing commentary on the situations.
"I'm going to step down from this conversation," he says in the clip below. "I was a serial cheater. It would be crazy and blasphemous for me to get up here and say, 'Boom, boom, bam.' I can't do that. I know these guys personally. I know they're going through a lot because I went through a lot."
Shaq also said that he didn't want to say anything because he's good friends with Nia Long, who has been in a relationship with Udoka since 2010. "I just wish that certain parties weren't involved," he added. "I've known Nia Long for a long time and I like her. … They're going through a lot of family stuff. I'm never the guy that's gonna get up here because of my platform and fake it."
Earlier this month, both Levine and Udoka were facing allegations that they had engaged in affairs. Levine, who has been married to Behati Prinsloo since 2014, admitted that he "crossed the line" during a "regrettable period" in his life. As Sumner Stroh revealed in a TikTok, which included alleged screenshots of DMs between her and Levine, she decided to come forward about the affair after he asked her if he could name his new baby Sumner.
Udoka, meanwhile, has been suspended as the Boston Celtics coach after it was reported he engaged in an "intimate" and "consensual" relationship with a staffer. Long has since shared a message thanking fans for the showing of love and support amid the reports.
Listen to the full episode of Shaq's podcast below.