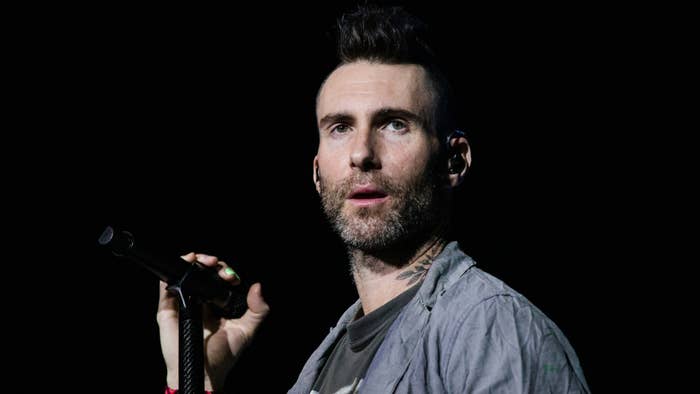 Adam Levine has addressed the quickly-made-viral claims surrounding allegations of an affair with Sumner Stroh.
The Maroon 5 singer, who has been married to Behati Prinsloo since 2014, shared a statement to Instagram on Tuesday in which he admitted to having "crossed the line" during what he bills as a "regrettable period" in his life. He does not, however, specifically name anyone in the statement.
"I used poor judgment in speaking with anyone other than my wife in ANY kind of flirtatious manner," Levine, who once famously perplexed the masses by stating "there aren't any bands anymore," said. "I did not have an affair, nevertheless, I crossed the line during a regrettable period in my life. In certain instances it became inappropriate; I have addressed that and taken proactive steps to remedy this with my family."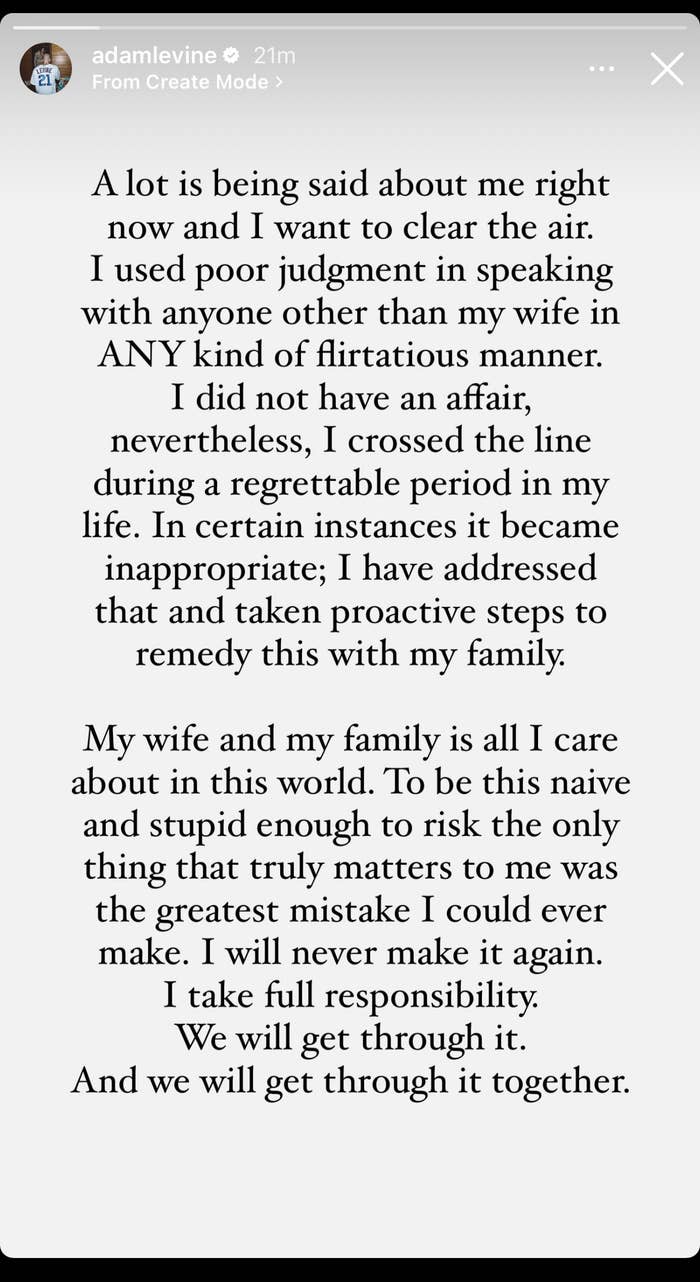 As your Twitter timeline has surely informed you in recent days, Stroh recently shared a TikTok in which she showed alleged screenshots of DMs between her and Levine. According to Stroh, she and Levine "were seeing each other for about a year" before the alleged affair came to an end.
"After I stopped talking to him over, you know, a period of months, this is how he came back into my life," Stroh said when sharing a screenshot showing an alleged DM from Levine in which he asked about naming an upcoming baby Sumner.
"You ok with that? DEAD serious," Levine allegedly said.
Stroh added that she had no intention of coming forward but ultimately did so after someone threatened to leak screenshots.
"I never wanted to come forward because obviously I know the implications that come with doing what I do, making money the way I do, and being an Instagram model," she said. "So being tied to a story like this is like, I know the stereotypes."
Per Stroh, she at one point "recklessly" shared screenshots with several friends, one of whom tried to sell them to an unnamed tabloid publication.
"So here I am," Stroh added.
Other women also released portions of their alleged DM history with Levine, including a comedian named Maryka and a woman named Alyson Rolef, per TMZ.
 "Distract yourself by f*cking with me!" Levine allegedly wrote Maryka along with a video in which he says, "I'm stupid." 
According to Rosef, Levine told her "I shouldn't be talking to you you know (right)?" Rosef told TMZ that she posted the messages because she feels bad for Prinsloo, and recommended that other women also release their DMs with the Maroon 5 singer.