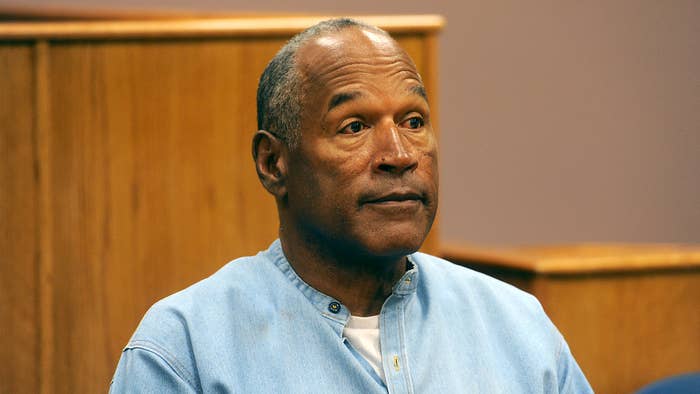 The Oscars slap heard around the world has provoked a response from O.J. Simpson, who said he understands how Will Smith felt. In a nearly two-minute video shared via Twitter on Tuesday, the Simpson became the latest celebrity to share some thoughts on the incident.
"Now, I thought the question I would be getting all day would be the question about the overtime rule of the NFL," he said. "Well, you know, I don't totally agree with it. … But the question I've been getting is Will Smith and Chris Rock." 
Simpson, who went on trial for the murders of his former wife Nicole Brown Simpson and her friend Ron Goldman in 1994 and '95, said that he doesn't condone Smith's behavior but he understands it. "It was unfortunate, I think Will was wrong. Look, I understood the feeling," he said. "In my life I've been through a lot of crap, when I was raising two young kids and every comedian in the country had an O.J. routine. And don't think I wouldn't wanna B-slap a couple of those guys, but you gotta accept it's humor."
He conceded that Chris Rock's joke, which was made at the expense of Jada Pinkett Smith's shaved head, was "semi unfunny." He continued, "I know this, after what happened to me in Las Vegas, if I would've done that in front of a billion people around the world, they would've given me life without. I'm just saying."
The caption alongside the video reads, "He was wrong but I understand the sentiment." 
Simpson was arrested in 2008 after he led a group of men into a Las Vegas hotel to steal sports memorabilia he claimed was stolen from him. He was found guilty of all 12 charges and sentenced to 33 years in prison but was granted parole in 2017. Many comedians, including Chris Rock and Dave Chappelle, have repeatedly delivered routines about Simpson's murder trial in the '90s. 
Following Sunday's ceremony, countless celebrities have chimed in on the slapping incident. Oscars co-host Amy Schumer described the moment as "disturbing," while Donald Glover gave a more diplomatic take and said he "can't choose sides" because he loves both actors.