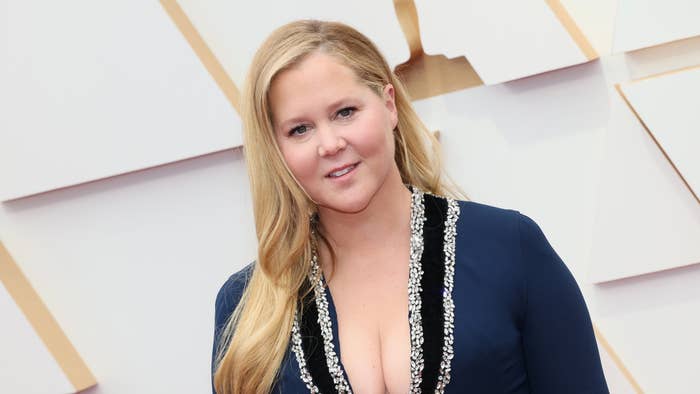 Amy Schumer, who co-hosted the Oscars alongside Regina Hall and Wanda Sykes, has shared a response to Will Smith slapping Chris Rock onstage on Sunday.
In a post shared on Instagram, Schumer said that she was still "triggered and traumatized" by the incident, which has dominated the pop culture landscape since the ceremony. 
"I think we can all agree that the best way to unpack what happened is to stream my series @lifeandbethhulu and see me on tour this fall," Schmuer jokingly opened the post before delving into her take on the situation.
"But for real. Still triggered and traumatized. I love my friend @chrisrock and believe he handled it like a pro. Stayed up there and gave an Oscar to his friend @questlove and the whole thing was so disturbing. I'm still in shock and stunned and sad. Im proud of myself and my cohosts. But yeah. Waiting for this sickening feeling to go away from what we all witnessed." 
When Chris Rock took to the stage on Sunday to present the award for Best Documentary Feature, which ultimately went to Questlove's Summer of Soul, the comedian made a joke about Jada Pinkett Smith's hair. She was diagnosed with alopecia back in 2018, and has been open about that leading to her decision to shave her head.
She didn't look too happy about the joke, understandably, and as a result Will Smith walked up to Rock and slapped him across the face. "Will Smith just smacked the shit out of me," said Rock, clearly stunned by the moment. When he returned to his seat, Smith yelled, "Keep my wife's name out your fucking mouth." Rock joked that the incident resulted in "the greatest night in the history of television," and continued to present the award for Best Documentary.
Smith went on to deliver an emotional speech upon accepting his award for Best Actor for King Richard. He later issued an apology to Chris Rock, and said he was "out of line" and "embarrassed" by his actions.
The Academy of Motion Picture Arts and Sciences wound up sending a letter updating its members about its review into the incident. "To be clear, we condemn Mr. Smith's actions that transpired Sunday night," reads the message from Academy CEO Dawn Hudson and president David Rubin. The pair suggested that the moment "overshadowed" the rest of the show, and said the review "will take a few weeks."