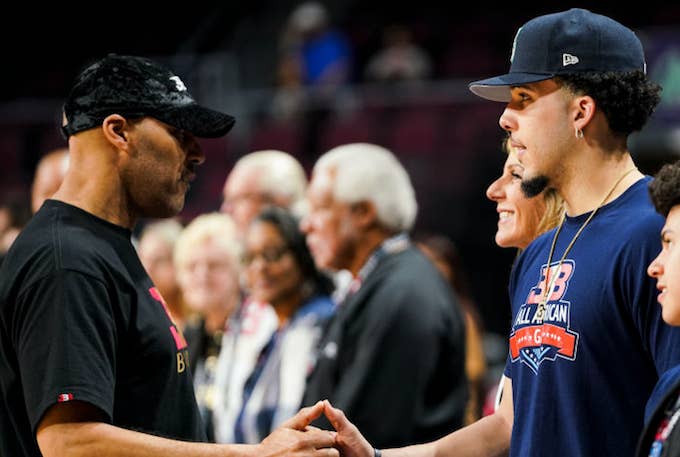 It's no secret that LaVar Ball likes to talk big when it comes to his sons, but in an interview with TMZ he might have gotten a little too confident in his statements. LaVar excitedly explained that he believes his son LiAngelo, who isn't available for this year's NBA draft, would be the No. 1 overall pick over Zion Williamson.
"He ain't no big baller," LaVar said of Zion, who he claimed "can't hold a candle" to LiAngelo. "He's a Williamson. Williamsons ain't stronger than Ballers," he continued, while also explaining that he thinks Zion can't play like LiAngelo. "Biggest and the strongest 2-guard in the NBA right now. Ain't nobody built like him at the 2-guard. Nobody. 6-6, 240, can shoot the three, post you up, kill you. But, you going to see. You going to see."
While LiAngelo isn't up for the draft this year, LaVar promises that will change. "I guarantee he'll be in the summer league, and guarantee he'll have an NBA contract this year," he stated.
Recently it was reported that LaVar had been meeting with numerous NBA agents on behalf of his son Lonzo Ball. He was also asking agencies if they would be able to pair all three of his sons on the same NBA team, but due to the issues surrounding the Big Baller Brand some agents were concerned about the financial situation of the family. Agents had been reaching out to Lonzo but were reportedly also put off upon finding out LaVar is still pulling the strings.